This is an honest review of the newest Panasonic Lumix camera.
It covers the most important technical highlights and features of the Lumix G90/G95.
This article is also a great read for travel photographers and vloggers looking into buying a new camera.
I recently went on an assignment in Morocco to test Panasonic's newest camera: the Lumix G90 (also called Lumix G95, depending on the country you're in). This was my first big job as a new Lumix ambassador and I was super thrilled to be one of the first photographers in the world to get my hands on this awesome little camera.
The Panasonic Lumix G90 looked fantastic on paper. This mirrorless camera promised lots of new and improved high-end features for both photo and video and an external redesign for better portability, durability, and usability in comparison with its predecessors in the Lumix G family.
For photographers who are already familiar with the Lumix G series, the G90 is meant to surpass the G80 in terms of image quality, autofocus, and video functionality. It has new and improved creative controls and a redesign of the buttons and grip for easy, comfortable and stable shooting.
At first glance, the Lumix G90 is an all-round compact-system camera that
is small, light and weather sealed
produces high-quality images with the 20.3 MP Digital Live MOS sensor
records 4K and Full HD videos with a frame rate up to 120 fps
combines body and lens stabilization to compensate camera shake, even on rough terrain (5-axis Dual I.S.2)
has high-speed autofocus and high-speed burst shooting at 6fps (AFC) and 9fps (AFS) to capture clear shots of fast-moving subjects
has an integrated OLED Live Viewfinder combined with a 3-inch free-angle touchscreen to shoot from any angle
has new and improved functions like 4K Photo, Post Focus mode, Focus Bracketing, Sequence Composition, and Live View Composite
has a microphone socket (3.5mm) and a newly added headphone socket
has Bluetooth and Wi-Fi connectivity for instant sharing on the smartphone
allows USB charging
If you are interested in the full list of the Panasonic Lumix G90 specifications, click here (Panasonic website).
In short, it promised to be a very powerful and portable camera that could be used in different areas of photography and taken on any trip or adventure. It sounded like the perfect camera for travel!
You're probably wondering, did it live up to its promises? To find out, I had to give it a test-run in a place where the camera would be exposed to the elements and unpredictable photo opportunities – Morocco.
Even though it was my job as a Lumix ambassador to test and create promotional content for the release of the Lumix G90 (meaning I got paid for this, yay transparency!), this article is an honest review based on my own impressions and experiences.
This review also covers a detailed explanation of the most important technical highlights and features of the Lumix G90/G95 that could benefit any outdoor and travel photographer. Don't worry if you're not that technically minded when it comes to cameras, I'll explain everything very clearly.
Keep on reading as this camera might be the perfect one to bring on your next adventure!
1. Portability of the Lumix G90/G95
I attach great importance to the portability of a camera. I have to consider the weight and size of the camera as I'm a full-time traveler and constantly have to carry my belongings in a backpack. Ideally, I don't have to compromise quality for size.
Before I switched to the Lumix G cameras, I used to travel with a Canon DSLR. Its picture quality was pretty good but the camera was so bulky and heavy. I really felt its weight in my daypack. When I started working with my first Lumix camera, the Panasonic Lumix G9, I immediately noticed a big difference in weight!
Although the camera body of the G9 was still relatively big, it was a lot smaller and lighter than my DSLR and I didn't have to compromise in image quality at all. On the contrary, I noticed that the mirrorless cameras offer a higher picture quality in comparison with the DSLR systems. I was sold!
On top of that, the Lumix G9 was weather sealed, meaning that I didn't have to worry about using this camera in harsh weather conditions (which I experienced a lot in the mountains of Kyrgyzstan).
Taken in Kyrgyzstan with the Lumix G9 on a very rainy day
While the G9 was excellent for outdoor shooting, I still found it a bit big for street photography during which I don't like to draw attention on myself. I prefer to go unnoticed when I take photos of daily life in the streets.
When I added the Panasonic Lumix GX9 to my camera collection, it seemed like this problem was solved! This camera is even lighter and way more compact than the Lumix G9 and it's great for street photography. Unfortunately, the GX9 is not weather sealed so it's not ideal to bring with me on my outdoor adventures.
I love hiking but I always have to take the weather into account! Photo taken with the Lumix G9 in Kyrgyzstan.
So up until now, I've been traveling with 2 cameras (and a bunch of lenses), using both in the situations they are made for.
Both cameras don't take up that much space in my bag and the total weight is similar to that of one DSLR. I was very satisfied with the functionality of both cameras so I didn't consider looking into getting yet another camera like the Panasonic Lumix G80. But then I got introduced to the Lumix G90!
Compact, lightweight & super easy to hold!
The first thing I noticed when I held the Lumix G90 was how compact and light this camera is! It's small (130.4 x 93.5 x 77.4 mm), which makes it perfect for traveling and it weighs only 481g (body only).
I compared the weight with a point-and-shoot camera like the Canon G7X markii and although this camera is smaller, the G90 is almost the same weight (if I'm using a small lens). I barely felt it when I was carrying it in my backpack.
The G90 didn't fit in my pocket like a point-and-shoot or the Lumix GX9 but it was small enough to pop in my handbag and I could take it everywhere with me. The camera also fits perfectly in my small hands and the rugged surface has a really nice feel to it (it looks and feels like leather).
I often didn't even bother putting the camera in a bag but constantly kept it in my hand while walking in the streets of the Moroccan city Essaouira, ready to take pictures at any time and place. Not once did my arm and hand feel sore or uncomfortable from carrying the camera for hours in a row.
If you're familiar with the Lumix G80/85, the above will all sound very similar but here's the difference between the two cameras: the G90 has a redesigned grip so the camera is now even more comfortable and easier to handle.
It also has new top buttons and repositioned back buttons, so you can easily operate the camera with one hand (more about this in the section Usability – Easy one-handed operation). This is so useful when a sudden photo or video opportunity presents itself and you quickly want to capture the moment.
Just like the GH5, G9, and G80, the Lumix G90 is splash and dust-resistant.
It has a magnesium alloy front frame, so it can handle quite a few bumps. Every joint, dial and button is sealed so the camera can withstand the most challenging conditions, making it ideal for outdoor shooting. As someone who loves hiking in the great outdoors, I find that a very important asset.
The moody weather in the mountains is often a great contributor for dramatic landscape images. Therefore you need a camera that won't get damaged if you get surprised by heavy rain or snow.
Caught in a snowstorm – Taken with the Lumix G9
I put the weather sealed body and kit lens (Leica 12-60mm) of the Lumix G90 to the test by bringing it to the beach on a very windy day. I was so close to the ocean that both the camera and I got very wet, even more than I anticipated and for a brief moment, I was worried as the camera was completely covered in salty sea water.
But after I cleaned and dried it, it still kept working perfectly so no damage was done.
I also brought the G90 to the Sahara desert to see if it was really as dust-resistant as it claimed to be on paper. Again, I got into an extreme situation when I got surprised by a (mild) sand storm. And again, the camera got completely covered, this time with tiny grains of sand (the worst!!).
Any other camera would definitely have suffered damage and I was already thinking about how I was going to tell Panasonic I damaged their camera (luckily it was a pre-production sample but still…) but I didn't have to worry.
This time it took me longer to clean the body and lens. Those sand grains got into the tiniest (sealed!) grooves but nowhere they could cause damage. So, I can guarantee you that the Lumix G90 is very sealed and that it passed its water-and dustproof test!
However, this doesn't mean that you can drop your new Lumix G90 in a puddle of water or hide it under a pile of sand without getting it damaged. It's a robust camera but there are limits for everything!
With one full-battery I was able to take approximately 400 images. This being said, I used my LCD screen nearly the whole time, I often reviewed my images on the spot and the camera was frequently turned on and off.
A great new update for the G90 is the power-saving function. This puts the camera automatically to sleep after a set period of inactivity and saves the battery life a lot!
In ideal circumstances, meaning if you'd only use this function with the sleep timer set on 3 seconds, didn't review your photos and didn't turn on the LCD screen, one fully-charged battery could take up to 900 images per charge!
What I also love about the Lumix G90 is that you can charge its battery by USB so you don't really need an external charger (although you automatically get one when purchasing the camera).
Being able to charge by USB is particularly beneficial while you're traveling as
you save space by not carrying an external charger in your bag
you can connect the USB charger to your car like you'd charge your phone (in case you travel by car of course)
you can connect the USB charger to a portable power bank (which most travelers have nowadays to charge their smartphone while on the move)
so you can charge your camera at any time and any place, even while you're shooting!
While I was out on a 2-day trip in the Sahara, I took 3 spare batteries with me. I just forgot to fully charge 2 of them… Although the battery life is rather long, I was shooting that much that by the end of the first day I only had one battery left.
Luckily I brought a compact power bank with me, which I normally use to charge my phone. Although this one didn't have much voltage, I was able to charge both (!!) of my empty batteries with one fully charged power bank. Loved it and it saved my trip!
Easily transfer photos to your phone
This is a feature I don't really use but if you use the integrated Bluetooth or wi-fi in combination with the Panasonic Image App, you can easily connect your camera to your phone and instantly share images on your social media platforms.
You can also use your phone to remotely control the camera if you like to take long exposures (to prevent shake) or selfies, instead of using the 10-sec self-timer.
The Lumix G90 also has an optional automatic GPS tagging, which can be useful if you'd like to keep track of the exact location of the photos.
2. Image Quality
20.3 Megapixel Digital Live MOS Sensor without low-pass filter
The Lumix G90/G95 has a 20.3 megapixels Micro Four Thirds sensor (17,3 x 13.0mm). If you're not so familiar with these terms, let me explain it like this.
Let's compare the sensor of a camera to a human eye. If you're in a brightly lit room, you'll see more things than when you're in a dark room. In a camera, the sensor will receive a certain amount of light based on the size of the sensor. So the bigger the sensor, the more light it will get, the more it will be able to distinguish details.
The sensor of a Micro Four Thirds camera (also called a mirrorless camera), in this case the G90, is half the size of a full sensor camera, like a DSLR. This doesn't mean that a DSLR guarantees a higher picture quality.
In my experience, ever since I switched from using a DSLR to one of the Lumix G cameras, the quality of my photos have improved tremendously!
With a high-resolution of 20.3 megapixels, the G90 captures very small details. The images came out so crystal-clear with true-to-life colors. I barely had to retouch my photos. This saves a lot of time if you usually post-process your photos. Here are some images that came straight from the LumixG90:
The only thing that I still find tricky with any Micro Four Thirds camera, the G90 included, is taking photos in low light. As I've explained before, the sensor is smaller than the one of a DSLR so it captures less light. This makes it sometimes hard to take a detailed photo in a dark environment.
However, this can be more or less solved if you use a lens with a wide aperture. The wider the aperture, the more light gets in. I'd suggest using a fixed focal lens length lens like the Leica DG Summilux 15 mm (f/1.7) or the Leica DG Summilux 25mm (f/1.4).
Taken with the Lumix G90 in low-light. It's actually not too bad!
(Settings: 1/30sec, f.3.5, ISO 400)
5-axis Dual Image Stabilizer 2
The Lumix G90 has a 5-axis in-body stabilization. This means that there's an integrated stabilizer in both camera body and lens that corrects movement and handshake in photo and video (including 4K video).
Let's say that you're filming and/or taking photos but your hands are shaking or you're moving in a car on rough terrain. With any other camera your footage will be blurry but thanks to the powerful Dual Image Stabiliser of the G90, the shake will be instantly corrected and your footage will be sharp and clear.
This image was taken while riding a camel
I put this feature to the test while riding a camel in the Sahara. I'm not sure if you've ever ridden a camel before, but I can tell you that it's not a very comfortable way of transportation.
It almost feels like you're sitting on a ship and it's hard to keep your balance while you're going up and down, let alone to take steady photos. Despite the challenging movements, none of my pictures turned out blurry!
Another advantage of having this in-body stabilization is that I don't always have to bring a tripod with me.
When I visited the Akchour waterfalls in Morocco, I couldn't be bothered carrying my tripod on the hike. I took handheld long exposure shots of the waterfalls (respectively ¼ sec and 1 sec.) and the photos were sharp and crystal-clear.
These photos were taken in November with the Lumix G9, which also has the same 5-axis Dual I.S. 2 as the Lumix G90
3. Usability
What I really like about the Lumix G90 is that it's a very accessible camera. It's made for both professional and hobbyist photographers and it's easy to use. It doesn't take much time to learn how to work with it, even if you're not that technical minded or never worked with a Lumix camera before.
New buttons for easy (one-handed) operation
The G90 has been redesigned so you can operate it easily, even with one hand. You barely have to go into the menu system to access the various settings as the buttons and dials on the body provide quick and easy access to the main functions.
On the top, there are three new buttons to quickly access the exposure, ISO and white balance. There's also a front and rear dial to directly adjust the settings. The top left dial lets you change the drive mode and access the burst mode, 4K Photo, 4K Focus Stacking, and the Self-timer.
The buttons on the back enable you to access the quick menu where you can adjust other settings like aperture and autofocus and the playback mode where you can review and edit your photos and videos.
The buttons and dials are positioned in such a way that you can quickly change the settings with your thumb and index finger while you're shooting.
Live Viewfinder & Free-angle Touchscreen
When you're taking photos, you might easily get distracted by your environment. The Live Viewfinder helps your eye to concentrate on the composition. It is called 'Live' as it gives 100% field of view, meaning it shows you exactly what the lens is capturing.
The OLED Live Viewfinder of the Lumix G90 is quite large, has a good resolution (2,360k-dot), is very clear and bright and it displays every image effect and the results of the settings that you are using. In short, what you see through the Live Viewfinder is what you'll get in your images.
The Lumix G90 also has a well-integrated 7.66 cm (3 inches) free-angle touchscreen. This is a great bonus and gives you a lot more creative freedom in your compositions.
Before I switched to the Lumix cameras, I barely used the monitor of my DSLR to take photos. I always looked through the viewfinder and was happy doing so. But then I started experimenting with the free-angle display of the G9 (which is similar to that of the G90) and it gave me indeed a lot more flexibility in my compositions!
Why is the flexibility touchscreen so useful? You can bend it in different angles so it becomes very easy to take overhead and low angle shots without having to position your body like a professional yogi.
Another advantage of using the flexible display is that it's not so obvious that you're taking photos. This comes in very handy when you want to document daily life on the streets or in the home of people without drawing the attention to you and the camera.
[columns] [span6]
[/span6][span6]
[/span6][/columns]
People notice that you're taking photos if you're looking through the viewfinder and will automatically act differently. But if you're holding the camera at the level of your waist and check your composition on the screen in a subtle manner, your subjects will quickly forget the presence of the camera and behave naturally again.
This is a brilliant way to capture spontaneous and intimate moments without being an intruder. Add on top of that the silent shutter mode that prevents the Lumix G90 from making annoying clicking sounds and you'll be a fly on the wall!
Optimized High-Speed Autofocus & Burst Mode
As a travel photographer, I like to capture life on the go, which means I don't have much time to fiddle around with the manual focus. I find it important that my camera is ready to take instant photos before the moment has passed. For that, I need fast and precise autofocus.
The Lumix G90 promised optimized high-speed autofocus on paper. In real life, this feature lived up to its promises. With a shooting delay of only 0.07 seconds, the G90 can even capture sharp shots of fast-moving subjects with the AF tracking mode.
The low light AF mode has been optimized for shooting in darker environments and even the photos that I took right after sunset turned out quite sharp and clear. I'm very pleased with the results!
Another feature that has been optimized is the Burst Mode. The Lumix G90 can now capture more than 30 RAW images and up to 600 JPEG images at a burst rate of 6 frames per second (AFC) and 9 frames per second (AFS).
If you have no idea what 'Burst Mode' means and how it can be useful for your photography, let me explain. Burst Mode is also called Continuous Shooting Mode. When you use this function, you can quickly capture several photos in a row.
This is particularly useful when you want to photograph fast-moving subjects like birds, waves or people doing sports without missing a moment. Afterward, you can select the best photo of the group.
The faster your burst rate is, the more images you'll be able to shoot within a second and the more chances you have on capturing that one perfect photo.
4. Creative Modes & Functions
There is a saying that goes: "You don't need a good camera to be a good photographer", but in my experience, it sure makes a big difference! Honestly, since I've started working with the Lumix G cameras, my work improved a lot!!
I don't only see a difference in the quality of my images but thanks to the innovative technology of Panasonic Lumix, I can do so much more cool stuff. They really make photography a lot easier and for me, that makes this brand stand out.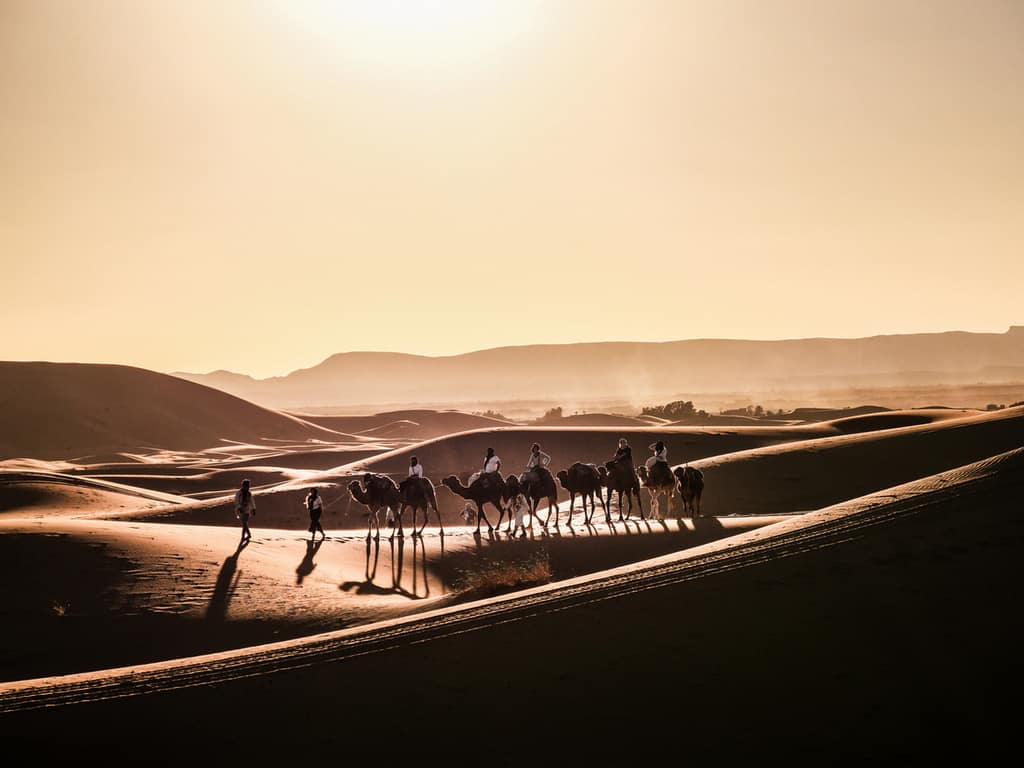 The Lumix G90 features a wide range of options that offer new possibilities to help you enhance your creativity and style. I won't cover them all, only the ones that I personally really love but if you want to have a complete overview of all the fun things you can do with this camera, have a look here.
I'm going to focus on some creative functions that you can also find in the other Lumix G models like the 4K Photo function and Post Focus and I'll also introduce some new features of the Lumix G90/G95, like Sequence Composition and Live View Composite.
I love the 4K photo function! Panasonic promotes this feature with the sales-pitch "Never Miss a Perfect Moment" and it really does help you capture that 'perfect' moment.
The 4K photo function is ideal in situations where there's a lot of action and movement. Let's say you're at a local market where everything is happening at once: vendors are waving around with their merchandise, bikers and cyclists are navigating around the different stands, locals are interacting with each other and you want to document everything without missing a beat.
Instead of frantically snapping away, you select the 4K shooting mode which will record the scene as a video at a rate of 30 frames per second, which are technically 30 photos in one second! Later on, you view the video on the camera, and the playback breaks the footage automatically into all those individual images.
You then simply select the photos you want and save them as 20.3 megapixel high-resolution JPEGs.
The Sequence Composition made its debut last year with the Lumix GX9 and has now been added to the Lumix G90. This creative function creates an in-camera composite that combines multiple images into one photo.
How does the Sequence Composition work? You shoot a scene using the 4K Photo Function. Then you choose a series of images from this clip in the playback menu and instruct the G90 to render the images you have selected. The camera will then compose those images into one photo which you can save as a high-quality JPEG.
It's a very easy process and it takes only 30 seconds to complete. I bet you'll have a lot of fun with this feature! The only thing you'll have to keep in mind is that you need a static background to compose this stromotion.
Post Focus & Focus Stacking
The Post Focus is another useful feature that is well-known with the Lumix G models. A series of exposures in 4K resolution is taken at 30 images per second. The focus moves through all the areas with different focal points (far and near). Every detail of the photo is crystal-clear.
Then you view the photo in the playback mode and select the area you want to focus on by simply touching the screen. You can f.eg. bring something specific to the foreground and blur everything else in the picture. Once the image is the way you want it to be, you save it as a high-resolution JPEG.
This Post Focus function also comes in handy when photographing difficult subjects like macro shots. You can combine this function with the Focus Stacking mode to give the image a greater depth of field by combining multiple images.
Live View Composite (LVC)
The Lumix G90/G95 introduces a brand new feature: the Live View Composite. This function can be used to capture fireworks, stars and star trails at night.
The Live View Composite function captures a series of long exposure images at designated intervals and combines it into one single picture. You can choose to set the shutter speed from ½ sec to 60 sec and you can shoot continuously up to 3 hours with a fully-charged battery.
Here are a few tips for when you use this function:
Use a tripod as you're shooting a series of long exposure photos.
The LVC function doesn't work in autofocus. You have to switch both camera and lens to manual focus. If it's hard to see if your image is in focus due to the darkness, do a trial shoot first during which you set the shutter speed at 10 sec. After 4 intervals you should see on the display whether or not your focus is good.
Turn off the Silent Shutter Mode. The LVC won't work if this mode is on.
Use a lens that has a wide aperture, ideally between f/1.4 and f/2.8. Set the camera at the lowest f-stop number possible.
To avoid noise, don't raise the ISO above 1250. The LVC combines areas of high brightness so you actually don't need to use a high ISO. I set my ISO to max. 400.
If you're shooting the night sky in a bright environment (like a town or city), set the shutter speed of max. 15 seconds. If you're in a dark area (mountains, desert, beach), you can use a longer shutter speed between 30 and 60 seconds.
5. Video Capability
I'm not a professional videographer so I'm not very tech savvy when it comes to video specifics. I do have some filming experience as I've helped my partner Niko occasionally with filming and making videos for our YouTube Channel so here are my 5 cents on the video capability of the G90/G95.
If you travel a lot and want a compact camera with fantastic video quality to document your adventures, I think the Lumix G90 will meet all of your expectations.
The Lumix G90/G95 records 4K Videos at 25P/30P in addition to Full HD Videos at 50P/60P. The video quality is really impressive! Here's a small fragment that I filmed at the fish market of Essaouira in 4K:
[kad_youtube url="https://youtu.be/xVdeLM_SVWQ" width="600″ height="400″]
On top of that, if you use an SD memory card with a high SD Speed Class, the continuous recordable time for the G90 in 4K video (30P) is approx. 90 minutes, while in Full HD (60P) it's approx. 100 minutes!
You can also use the High-Speed Video mode to record slow-motion videos in Full HD at 120 fps, 90 fps, and 60 fps.
[kad_youtube url="https://youtu.be/1tDfKi7E8UM" width="600″ height="400″]
The 5-axis in-body stabilization comes in very handy while shooting handheld videos and the camera even has a new creative control: the pre-installed VLOG L mode with a wide dynamic range for color rendering in post-production. There's also an in-camera time-lapse.
The G90/G95 has a microphone port (3.5mm) for high-quality audio recording and a newly added headphone socket.
I'm telling you, the Lumix G90 is such a versatile camera, there's almost no limit to what you can do with it!
6. Summary – Is the Lumix G90 the best hybrid camera for travel?
After reading this whole review, you've probably guessed my answer by now… YES!!
I really believe that the Lumix G90/G95 is one of the best cameras you can get for travel photography and videography. I mean, you can just do EVERYTHING with this camera and with its ease of use, it's very accessible, even if you're not that tech-savvy.
Here are the main points why I think the Lumix G90 is perfect for travel:
It's small, very light, robust and weather resistant. You can bring it everywhere with you without having to worry it will get damaged in challenging environments and weather conditions. It's perfect for outdoor adventures! And with the 5-axis Dual I.S.2, you can take stable handheld shots, even when you're moving on rough terrain.
It's small enough that you can capture spontaneous moments and portraits of people without being an intruder. Thanks to the flexible LCD monitor and the silent shutter, people won't even notice you're taking photos. It's ideal for street and documentary photography.
The image and video quality is outstanding! The colors are warm and rich and the details are so crisp and clear! You barely need to retouch the photos or videos in post-production. The 20.3 megapixel high-resolution photos are also great for printing.
Never miss a moment. With the fast burst mode and 4K Photo function you can capture any action or movement, whether it's a folkloric event, a music performance, a sports competition, or simply daily life in the streets.
The camera offers so many creative options that the photos barely require any post-processing. Thanks to in-camera functions like Post Focus, Focus Stacking, Sequence Composition, Live View Composite, etc. you save a lot of editing time! You can share your work instantly with the built-in wifi.
Are there aspects of this camera that I'm not very happy with? To be very honest with you: not really. So far I've been incredibly pleased with this camera!
There are some people complaining about the video crop (1.25x) but this didn't really bother me. The whole promo video for this camera (the one I added at the beginning of this article) was filmed with the Lumix G90. I used the Leica 8-18mm, an ultra wide-angle lens, and the Lumix 12-60mm to shoot this video and the crop never was a problem for me.
While shooting in low-light with a mirrorless camera can be more challenging (like I explained in section 2. Image Quality), I have the impression that this camera does pretty well in low-light. If you get a lens with a wide aperture, like the Leica 25mm/f1.4 , this "problem" is also quickly solved (more about this lens in the section below).
You might wonder if there's really a big difference between the Lumix G90/95 and the Lumix G80/85. While both cameras show a lot of similarities, I'd definitely say that the G90 is an upgraded version: it has improved image quality, video capability, and design, newly added features like Sequence Composition and Live View Composite and more powerful performance. The Lumix G90 is more pricey than the Lumix G80 but you get a lot more extras in return!
If you've been looking for a (new) camera to bring on your travels, then this might the one!
In North America, the Lumix G95 + Lumix 12-60mm lens is sold for $1197,99. Click here for more info and order your Lumix G95!
Outside of North Americ, the Lumix G90 is set to go on sale in June 2019. I'm not 100% sure what the exact price will be but here are the estimated prices:
Body only: €999 (£860) / Camera + Lumix G Vario 12-60mm lens: €1299 (£1079) / Camera+ Lumix G Vario 14-140mm lens: €1499/ (£1259)
7. Lens Suggestions for the Lumix G90/G95
The Lumix G90/95 is a mirrorless interchangeable lens camera so it's also important that you choose a good lens that fits the purpose of your work. There's also no point in getting a super big and heavy lens if you want to travel compact and light.
If you buy the Lumix G90/G95 MKit, it includes the Lumix G Vario 12-60mm lens. This is a great all-round starter lens for travel. It has a range of 24-120mm (35mm equivalent) which is quite wide.
However, outside of North America, the Lumix G90 will also be sold with the Lumix G Vario 14-140mm lens, which is, in my opinion, a better all-round lens for the Lumix G90/G95. Or you could just buy the body only and get one (or more) of the lenses below, depending on your needs.
Here are my 4 lens suggestions for the Lumix G90/G95, keeping the travel photographer in mind.
[columns] [span4]
[/span4][span8]
The Lumix G Vario 14-140mm is the lens that I use most often when I'm on the road. This is, in my opinion, the best all-round lens as it's small and light (265g) so it doesn't add much more weight to the camera body.
[/span8][/columns]
It covers the focal length 14 to 140 mm (28-280mm equivalent) which gives you great versatile zoom capability so it's perfect for shooting near and far subjects.
The Lumix G Vario 14-140mm has in-lens stabilization so combined with the DUAL I.S.2 of the G90, you're guaranteed to have steady and clear photos!
1st photo: focal length – 14mm 2nd photo: focal length – 140mm
→ Check the price and further details about this lens here!
The only thing that isn't so great about this lens is its aperture. With the widest f-stop at 3.5, the lens doesn't give a very shallow depth of field and it also doesn't let in much light when shooting in darker environments or indoors.
So if you like taking portraits or photos in low-light conditions, I'd suggest you get this additional fixed focal length lens:
[columns] [span4]
[/span4][span8]
This prime lens has a fixed focal length of 25mm (50mm equivalent) which means that you can't zoom in or out. However, the wide aperture (f1.4) allows a lot more light into the sensor so this lens is great for shooting in low light or indoor photography.
[/span8][/columns]
Another reason why I recommend this lens is that you'll be able to really isolate your subject and create a dreamy out of focus background. This is particularly beautiful when you want to make portraits or take close-ups of small subjects like flowers, insects,…
The Leica 25 mm is a very small lens (57,5×36 mm) and super light (115g). If you use this lens to shoot street and documentary photography in addition to the versatile Lumix 14-140mm, you're all set!
→ Check the price and further details about this lens here
[columns] [span4]
[/span4][span8]
Although a bit on the heavy side (655g), this lens covers a wide focal length range of 50 to 200mm (100-400mm equivalent). Despite its weight, it's a rather small lens (76x132mm).
[/span8][/columns]
I've seen many photographers walking around with giant (Canon) telephoto lenses covering the same range as this one. So if you want to shoot sports, wildlife or people from a distance on your travels, this lens is compact enough to take with you on your adventures.
What I also like about this lens is its wide aperture which creates a shallow depth of field and allows you to isolate your subject.
→ Check the price and further details about this lens here
[columns] [span4]
[/span4][span8]
If the weight would be an obstacle, there's also the Lumix G Vario 45-200mm/ f.4.0-5.6. This lens covers the same wide focal length, a little bit more even, from 45 to 200 mm (90-400mm equivalent) but it doesn't have a very wide aperture.
[/span8][/columns]
However, if you care more about the weight than having a shallow depth of field, then I'd recommend you get this telephoto lens for your travels. It's also a lot cheaper…
→ Check the price and further details about this lens here
[columns] [span4]
[/span4][span8]
If you're into landscape photography or vlogging, you'd want to use an ultra wide-angle lens that can capture the whole environment. The Leica 8-18mm captures the big scene for you with its widest focal length at 8mm (16mm equivalent). This lens also has a wide enough aperture for shooting in low-light.
[/span8][/columns]
Although I mainly use this lens for landscapes, it can also be used to capture a smaller scene in a limited amount of space or to create a close-to-subject perspective that gives the viewer a sense of presence in the photo or video.
This lens is compact and only weighs 315g.
→ Check the price and further details about this lens here
8. Which memory card do you need for the Lumix G90/G95
The Lumix G90/G95 has 1 SD memory card slot that supports UHS-II speed.
If you're going to continuously record lots of 4K and slow-motion videos, use the burst shooting at a high rate and panning to take tons of high-resolution photos, you'll need a memory card that can keep up with it all.
You'll need at least a class 10 SD card with a minimum speed of 10MB/s. Everything below will be too slow. For the fastest possible results, you should get an SD memory card with Speed Class U3.
Here are 2 memory cards I recommend for the Lumix G90/G95:
[columns] [span4]
[/span4][span8]
This is an inexpensive SD memory card that provides writing and reading speeds at 95MB/s. It can record 4K videos without any problem. It comes in 16GB, 32GB, 64GB, 128GB and 256GB sizes (I usually go for the 64GB one).
[/span8][/columns]
The SanDisk Extreme PRO U3 is my personal favorite as it doesn't cost that much but does its job very well!
→ You can order the SanDisk Extreme PRO here.
[columns] [span4]
[/span4][span8]
This SD memory card reads and writes at a speed of 300MB/s. It's the Ferrari among the SD cards as it's super fast but it's also more expensive. If you want to speed up every process related to the camera and also have a fast file transfer to your computer, then you probably won't mind paying a bit more.
[/span8][/columns]
The Lexar Professional 2000 comes in 32GB, 64GB and 128GB sizes.
→ You can order the Lexar Professional 2000 here.
If you made it until here, thanks so much for reading this review! I hope you enjoyed it, learned a bit here and there and maybe you've just bought yourself a brand new camera to bring on your next adventure!
If you have any questions or you'd like to add something to this review, please let me know in the comments below!
Disclosure:
* I was sent this camera by Lumix to shoot sample photos and create promotional content. This review is my own initiative. As always, I would never recommend a product I don't like and I think it's obvious that I absolutely love this camera!
** This article also contains affiliate links. This means that if you purchase a product through one of these links, we'll receive a small commission at no extra costs for you. This way you're helping us writing more informative and awesome guides like this. Thank you!
ARE YOU CURIOUS ABOUT MY TRAVEL PHOTOGRAPHY? HAVE A LOOK AT FOLLOWING PHOTO-ESSAYS:
[su_posts template="templates/list-loop.php" posts_per_page="8″ tax_term="470″ order="desc"]