This article is a list of the best and cheapest accommodation in Tangier. Whether you just want to save money or you are backpacking on a budget, this list will help you stay in Tangier without breaking your piggy bank.
Tangier is a Moroccan city that is totally worth visiting. It's a city that blends Morocco and Europe in a way that is not seen anywhere else in the country.
If you're traveling around Morocco on a budget, you'll find out that it's possible to stay in a cheap hostel in Tangier.
Tangier has a beautiful old Medina…
Tangier offers a huge choice of hostels for budget travelers who want to save money to explore during the day, and swap stories with fellow backpackers in the shared kitchen or bar in the evening.
Tangier also has some fantastic sunsets…
If you want more privacy, the city also has some very cheap but comfortable hotels and Guesthouse.
What are the eight cheapest and best hostels and budget hotels in Tangier? Read more to find out Which ones we compiled over the course of the last six months.
Most of the hostels in the old Medina have beautiful rooftop terraces…
8 Best and cheapest hostels, hotels and guesthouses in Tangier
This hostel is a mix between a hostel and an art gallery so you can expect plenty of beautiful paintings hanging on the walls of the lobbies. The dorms have fewer beds than in other hostels around Tangier (only four beds per rooms) so the rooms are generally much quieter than in other places.
The staff of this hostel takes cleanliness very seriously and the whole lodging is cleaned every morning. The sheets on the beds are washed and changed every day. The hostel also provides shampoo and towels to all their guests.
The atmosphere of this place was very relaxing and I stayed there for almost two weeks as I was getting internet work done thanks to their excellent wifi.
Tanja Lucia also has a very big rooftop terrace that overlooks part of the old city. This was my favorite part of the hostel and the perfect place from which to write on a sunny day.
If you're looking for comfort and quality, don't look anywhere else, Tanja Lucia is The best and cheapest hostel in Tangier.
Click to check out rates and availability for "Tanja Lucia Hostel"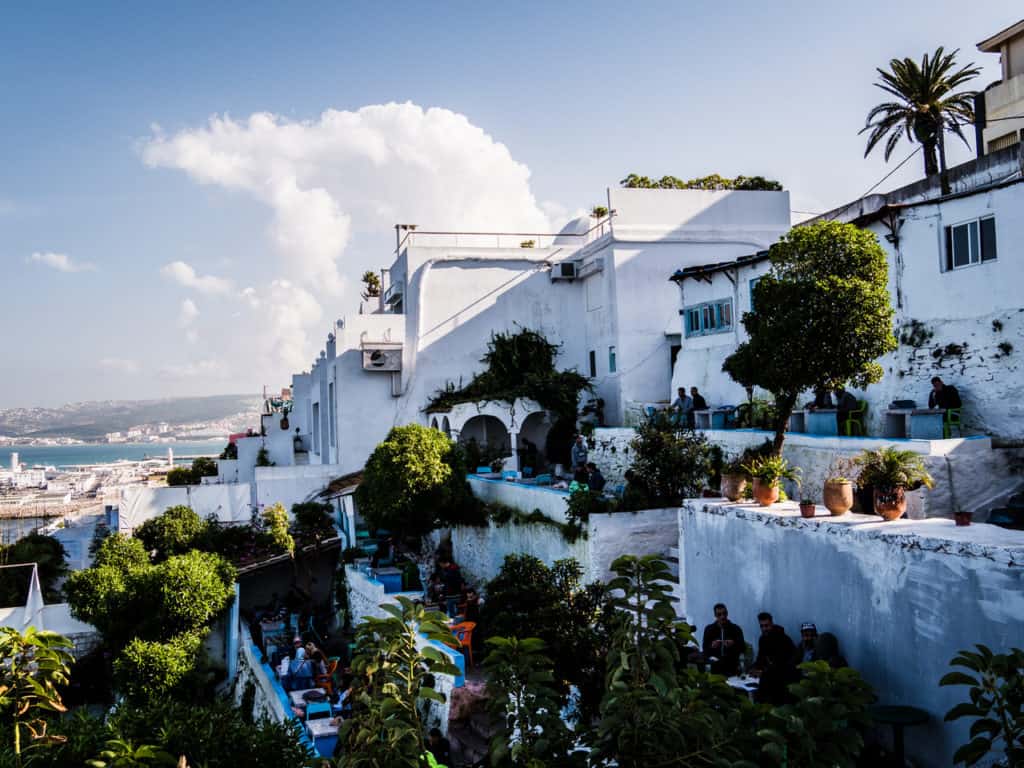 Cafe Hafa is a great place to visit in Tangier. Check out our complete city guide to Tangier…
This property is 12 minutes walk from the beach. It features barbecue facilities and free reliable WiFi. Tangier Kasbah Hostel is located in the old city, a few steps from Dar el Makhzen and only a hundred meters from the Kasbah Museum.
They have a nice terrace from which you can see the port and a shared lounge that has a beautiful traditional Moroccan fountain.
The staff of the Tangier Kasbah Hostel is very friendly and speaks English perfectly. You can also enjoy a delicious continental breakfast served every morning at the property.
Click to check out rates and availability for "Tangier Kasbah Hostel"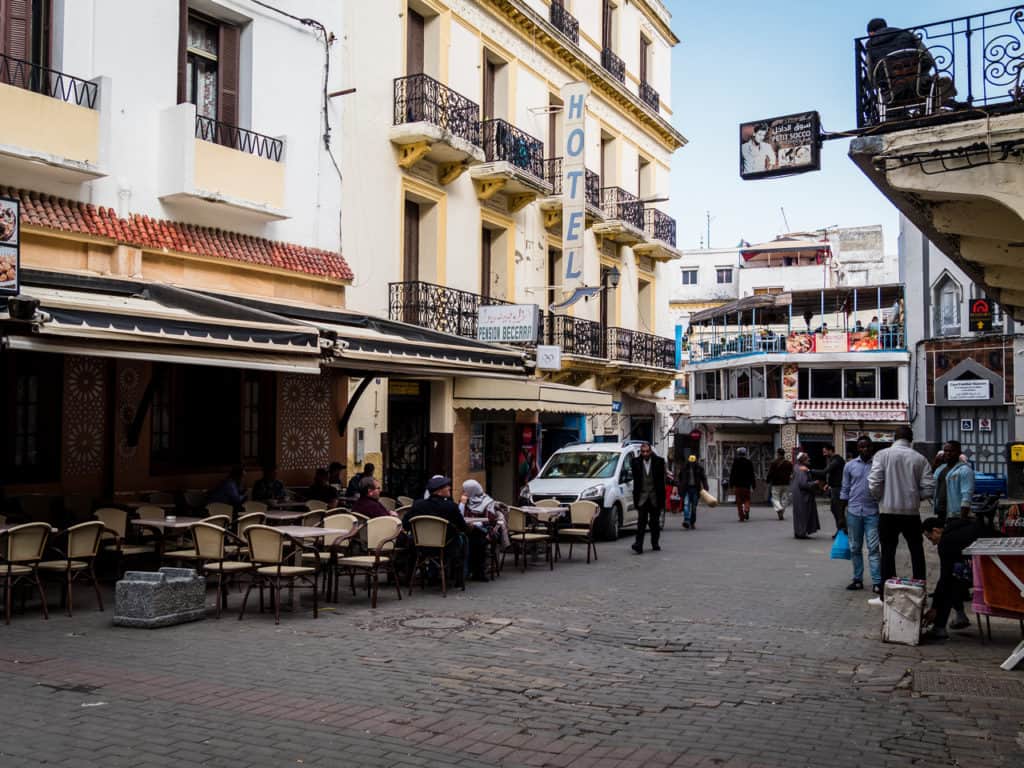 Most of the hostels in Tangier are located next to this iconic square called "Petit Socco"
The staff at this hostel is very friendly and laid back. They are some of the friendliest hostel employees we have seen in Tangier going completely out of their way to show us around the old Medina and to give us an authentic Moroccan experience.
The hostel is decorated with traditional Moroccan lamps and the doors are carved in a way that gives the place a very exotic atmosphere.
They also have fantastic wifi and if you're a remote worker or need to do most of your work online, this will be the ideal place.
There are always plenty of young backpackers that come to this hostel so it's a great place to be social and meet other travelers.
This hostel is really well located and the view from the rooftop terrace is awesome!
Click to check out rates and availability for "Tangiers Hostel"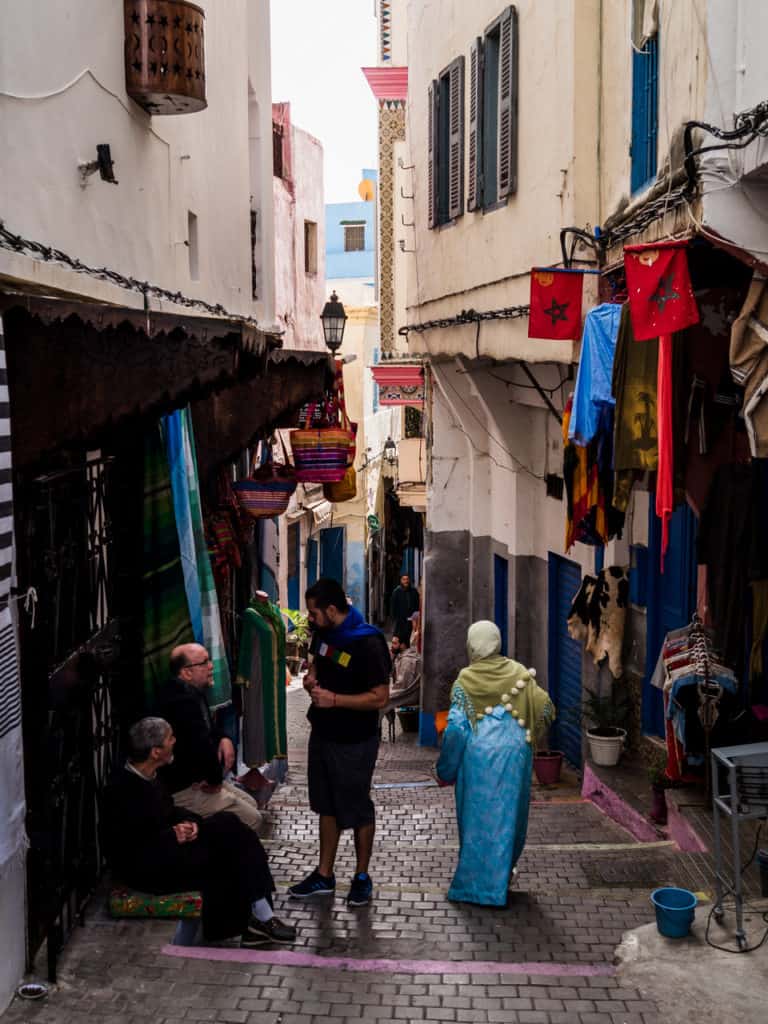 You can find tons of souvenirs in the old city…
This hostel has a beautiful terrace and is located less than 1 km from the American Legation Museum. It is only 1.8 km from Dar el Makhzen and the Kasbah Museum. Free WiFi is provided.
The rooms are very cozy and include a shared bathroom. A continental breakfast can be enjoyed every morning at the property.
The staff speaks Arabic, English, Spanish and French and will be happy to provide the guests with practical advice on the city at the reception. Ibn Battouta Airport is located 15 km from The Medina Hostel.
Click to check out rates and availability for "The Medina Hostel"
The Phoenicians Tombs are worth the detour. Read our City Guide to Tangier.
This beautiful accommodation is more of a guesthouse than a hostel. Here you're looking for privacy and tranquility on a budget, look no further. There are only cheap private rooms at Diafa so no need to share your space with strangers if you don't want to.
Diafa is a very cozy place owned by a lovely Moroccan family. You will quickly feel at home here as the owners go above and beyond to make sure their guests feel comfortable. This family has taken the habit of surprising their guests with complimentary tea and an occasional homemade harira ( Moroccan soup), some fruits or some snacks.
The rooms are sparkling clean and it's where I had the best sleep during my stay in Tangier.
Click to check out rates and availability for "Diafa"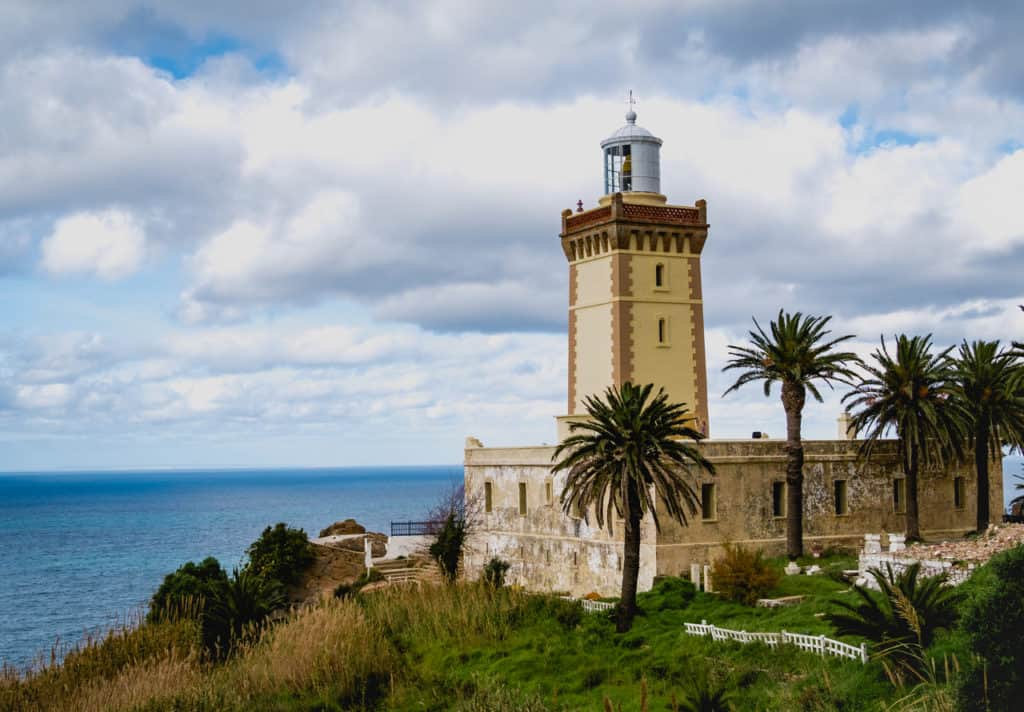 If you have time during your stay in Tangier, make sure to visit Cap Spartel just 20 minutes away from the city…
I stayed in this hotel on two separate occasions. Once, five years ago when I first came to Tangier (Read: 13 things that made me fall in love with Morocco) and quite recently. Fuentes is somewhat luxurious while being very cheap and it's located in the center of the old Medina right next to the "Petit Socco".
The rooms here are a bit small but they are very cozy and the beds are super comfortable.
What keeps me coming back at Fuentes is the nice and delicious breakfast they serve every morning and the friendliness of the staff.
If you're looking for your own private room in the heart of the old Medina, this is the place I recommend.
Click to check out rates and availability for "Fuentes"
This place is extremely cheap considering how beautiful it is. All the rooms at El Muniria are very big and spacious. This hotel has a lot of style and it's the ideal place for a romantic honeymoon. The staff is very friendly and attentive and they clean and change the bedsheets of the huge beds every single day.
Because of its location, El Muniria constantly receives a sweet breeze from the sea. This combined with the extra large rooms creates a very inspiring atmosphere.
All of the room are decorated in various shades of blue and I found that particularly relaxing when I was there. The beauty and simplicity of the rooms combined with the late dinners on the rooftop terrace are some of my best memories of Tangier.
Click to check out rates and availability for "El Muniria"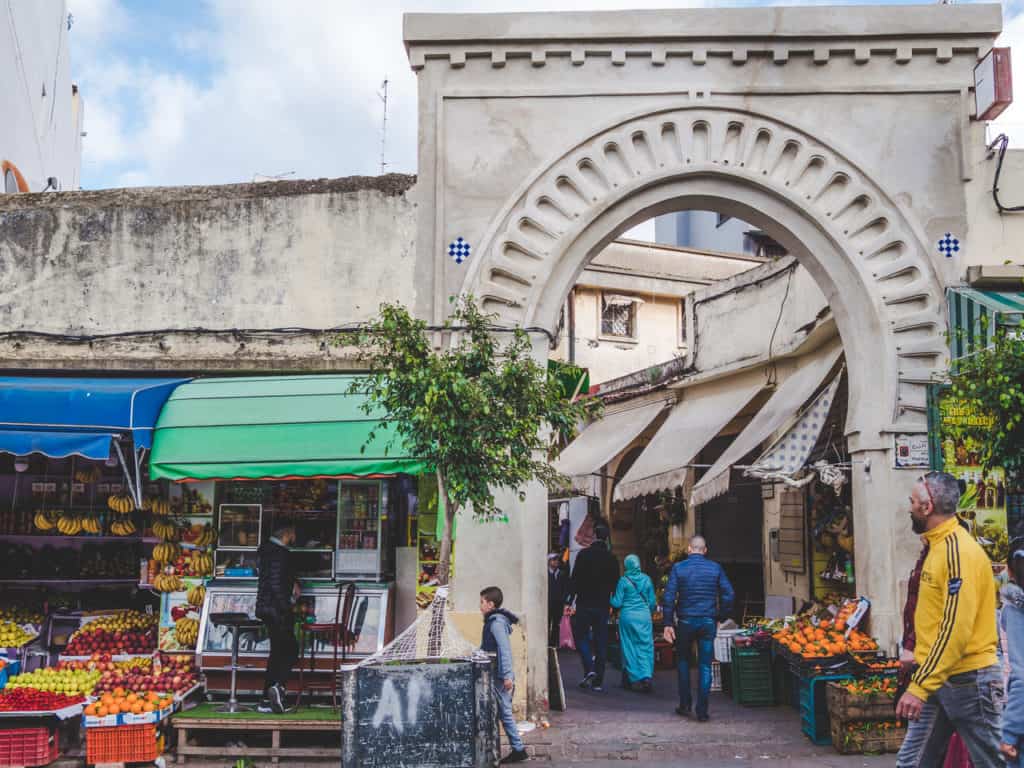 The old city has some beautiful gates…
Hotel Mamora is another hotel that is extremely luxurious yet very cheap. The rooms are gorgeous and the beds are super soft.
The breakfast is slightly different every morning but always has plenty of fresh fruits in it. The shared lobby and the terrace have very comfortable couches and if you need good internet, this is the place to be.
The location of this hotel is also ideal if you want to explore the old city of Tangier.
Click to check out rates and availability for "Hotel Mamora Tanger"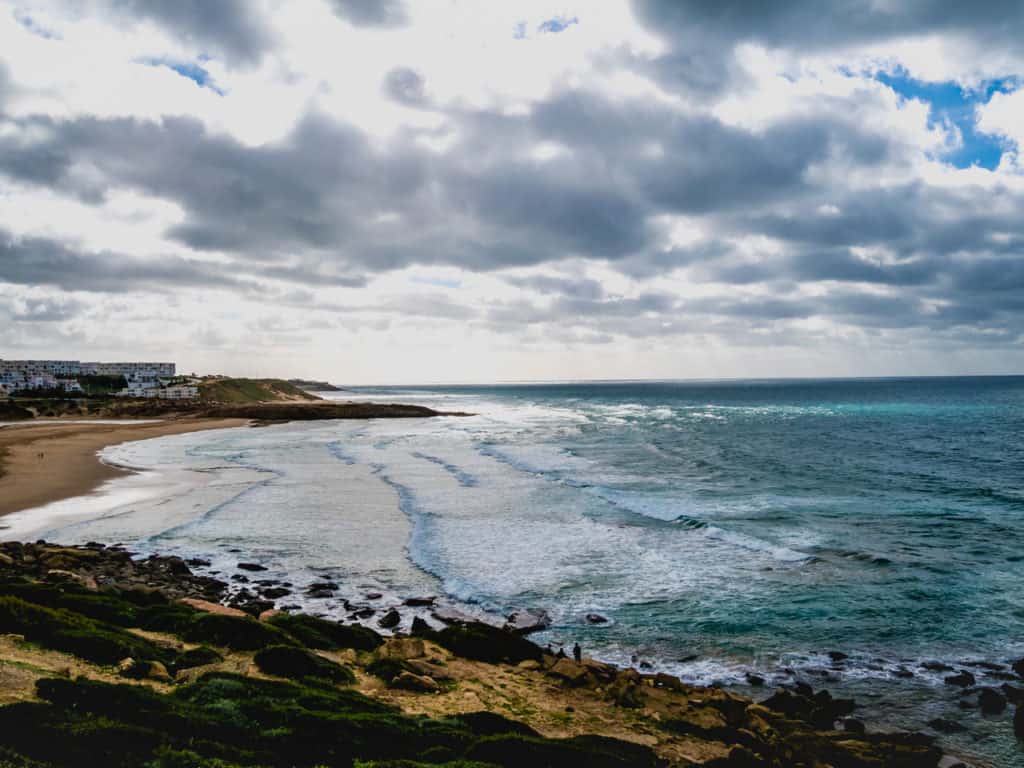 You can get a beautiful view of the sea from Cap Spartel just outside of Tangier..
[kt_box opacity="1″ background="#eded6d"]
To find out what to visit in Tangier,
read: Top Things to do in Tangier
[/kt_box]
A word of advice before you book your hostel
A lot of the hostels in this article are located in the old city. While this part of the city is beautiful, a few scammers here take advantage of unwary travelers (see 12 Common Scams you might encounter in Morocco).
One of the typical scams that you might encounter in the old medina is the "Nice guy showing the way". This scam consists of offering unsolicited help such as pointing out the way to a hotel or guiding you to a restaurant. Once you arrive at the hostel the scammer will ask you for an overinflated tip in exchange for his service.
For example, while you're walking with your backpack in the streets of the old medina of Tangier, someone approaches you and suggests to guide you to your hostel. Once you arrive there, he asks for 30 or 50 MAD for the five minutes it took to help you and will not leave until you give him a tip.
How do you avoid this scam?
Be very wary of exaggeratedly friendly strangers who approach you out of nowhere and offer their help. Only ask for help if you absolutely need it, and if so only ask people inside their shops or traffic and police officers. If there are young guys around just ask for directions but always remember to insist that you don't need them to guide you.
A quick tip: Learning some words in Moroccan Arabic will help you avoid this trap.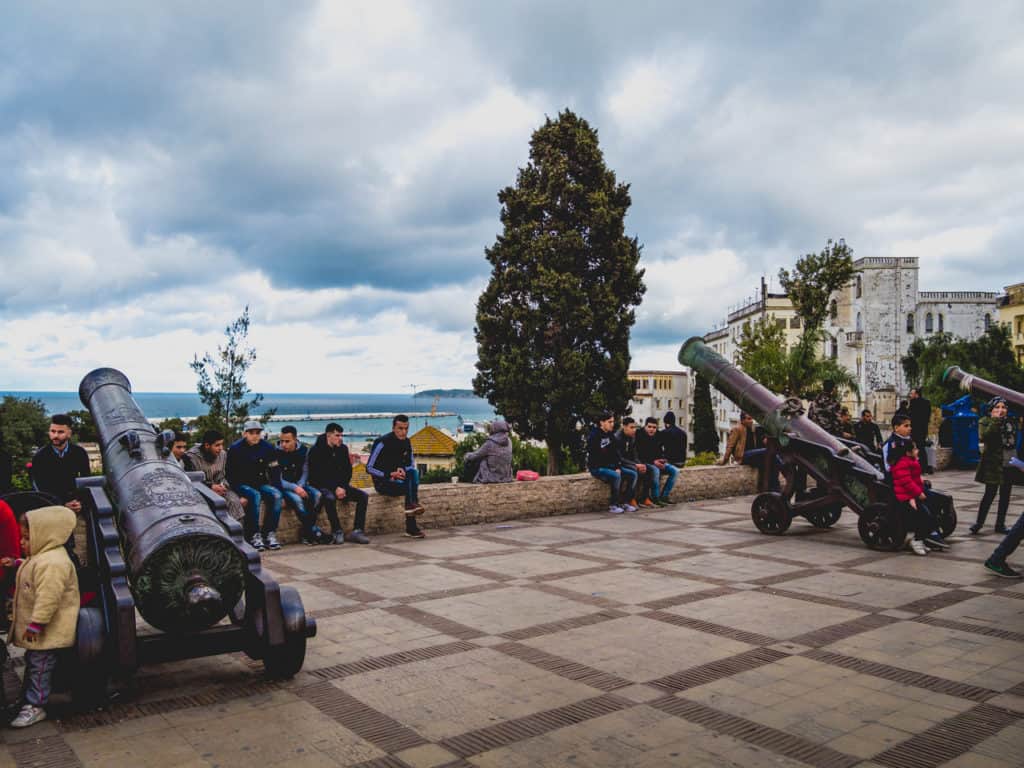 We hope you find a great hostel or low budget hotel in Tangier and that you have an awesome time in this city. If you have any questions or if you've already been to Tangier, we love to hear from you in the comments below!
* This article contains some affiliate links. If you book a hotel/hostel through our website, we'll receive a small commission at no extra costs for you. This way you're helping us writing more informative and awesome guides like this. Thank you!
KNOW BEFORE YOU GO – MOROCCO TRAVEL TIPS:
Planning to rent a car in Morocco? Read this first:
A few travel and safety tips for Morocco:
Planning to travel to Morocco during Ramadan? Read this first:
How is it to travel to Morocco during Ramadan?
Hiking, surfing and nature trips in Morocco:
Our Moroccan city guides:
MOROCCO TRAVEL RESOURCES: