If you want to know how to visit Pamukkale in Turkey, this will be the perfect guide for you. Here we'll tell you everything you need to know about the water pools of Pamukkale. From Pamukkale's opening hours to where to stay and eat near Pamukkale. We also explain how to visit Hierapolis and where to stay near Pamukkale and Hierapolis.
Cotton castle. Velvet white rocks. White paradise. Magically healing hot water springs. What a way to advertise Pamukkale!
It sounds more like a fairy tale than a real place. Add on top of that a beautifully photo-shopped picture to the brochure and you definitely have a good amount of visitors coming your way!
Pamukkale is a unique and beautiful place. Pamukkale, which means "cotton castle" in Turkish, is a natural site in Denizli in southwestern Turkey. The area is famous for a carbonate mineral left by the flowing water.
Pamukkale looks like a cotton castle…
Over the course of thousands of years, this mineral has formed white water pools famous around the whole world for their healing properties.
Pamukkale is so much more than hot pools and in this guide, we'll tell you about all the cool activities you can do there!
Where is Pamukkale?
Pamukkale is tucked away in the hills of the Denizli Province in southwestern Turkey. It's located about 19 km from the city of Denizli.
It's located in Turkey's Inner Aegean region, in the River Menderes valley and the site has a nice temperature for most of the year.
Turkey is a very big country and most people visiting the country don't make it to the hot pools of Pamukkale since it's located quite far from the country's capital.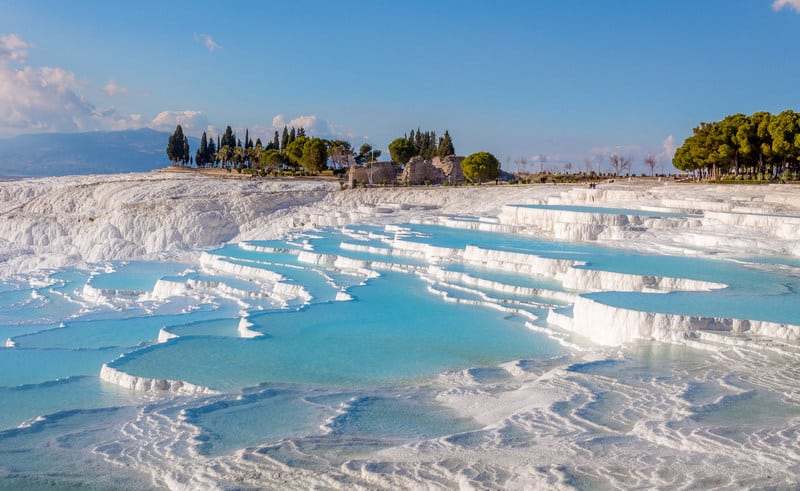 A bit farther in this article, I'll tell you how to get to Pamukkale from the biggest cities in Turkey.
Why should you visit Pamukkale?
There are so many different reasons why Pamukkale is worth visiting. First of all, there is so much ancient history and mystery surrounding Pamukkale.
Throughout the ages, the hot waters of Pamukkale were always said to have some healing properties.
There is a legend that tells the story of a young ugly girl who lived in a little village near Pamukkale. She was so ugly that nobody wanted to be with her. She became so desperate and lonely that she wanted to kill herself.
There are many legends surrounding Pamukkale thermal pools…
She jumped off the highest cascade but instead of being crushed to death, she fell in one of the water pools.
The magical powers of the water washed away her sorrows and she became a very attractive girl.
When she climbed out of the pool, she met the lord of Denizli and he was so mesmerized by her beauty that he fell in love with her and asked her to marry him. They lived happily ever after.
The Turks say that bathing in the pools will cure illnesses such as nutritional and chronic disorders, digestive and circulatory problems, eye and skin diseases, etc. Because of this, Pamukkale has been a flourishing spa resort since ancient times. Even Cleopatra bathed in the healing pools.
Apart from the healing properties of the water, the travertine pools of Pamukkale are surrounded by some gorgeous ruins and historical sites.
One of these sites is the ancient Greek city of Hierapolis located above the pools.
The ruins of Hierapolis are still standing above the hot springs of Pamukkale…
Hierapolis was transformed into a spa in the 2nd century BC. It became a healing center where doctors used the thermal springs as a treatment for their patients.
In 17 AD a major earthquake left the city completely in ruins. The Romans rebuilt it and added a big amphitheater.
Thousands of people came to benefit from the healing water pools.
These ancient rock columns are still standing…
The city grew and became very wealthy. But over a period of hundreds of years there were a lot of earthquakes and eventually the city never fully recovered and got completely abandoned around the 14th century.
In the 20th century the ancient city was rediscovered by travelers (I sure hope we'll do a major discovery like this one day) and the hot springs became famous again.
Top things to do in Pamukkale
There are quite a few things to see and do in and around Pamukkale. Here are some of the sites and activities you shouldn't miss:
1. bathe in the travertine pools
The one thing you should absolutely do when visiting Pamukkale is bathing in the dazzling white travertine pools. These natural rock pools were created by calcium deposits coming from the area's hot springs.
These deposits grew on the steep slopes of Pamukkale the same way stalactites form inside of caves. They gradually fanned out into pools over the years.
It's possible to bathe in these gorgeous water pools…
To reach these pools, you'll have to walk (barefoot to not damage the travertine) all the way from the bottom entrance of the site to the top part where these small natural baths are located.
The pools closer to the top are the hottest while those closer to the bottom of the site hold lukewarm water.
2. visit the ruins of Hierapolis
Hierapolis was originally a fortified Greek colony founded by king King Eumenes II of Pergamon around 190 BC.
While the city started off as a military outpost, it was later transformed into a spa center.
The ruins of the city have beautiful long roads surrounded by towering columns. Cynthia and I walked up through the Pamukkale limestone terraces and entered the Hierapolis ruins near the Antique Pool.
We walked there for hours and hours soaking in the beauty of the ruins. There is a Necropolis in the northern part of the ruins and Byzantine church at the southern end.
3. sit in the theater of Hierapolis
The theater is the main attraction to see if you visit the ruins of Hierapolis.
It stands on top of a hill and overlooks the rest of the ancient Greek colony. It takes about 10 minutes to reach the theater from the entrance of the ruined city.
The theater is incredibly well-kept and retained much of its original detail. If you go sit on one of the top seats, you'll have a fine view of the perfectly preserved stage.
You'll have an amazing view from the top of the stairs…
4. bathe in Pamukkale's antique pool near the temple of Apollo
There are a few more pools worth exploring near the temple of Apollo. Unlike the natural travertine pools, these were carved into the rock by the Romans.
It's quite a unique hot-spring experience, with submerged columns and marble pieces of the temple scattered in the water. I haven't had any experience like this anywhere else!
You'll need to pay 50 Lyra to swim in these Roman pools in addition to the 50 Lyra it costs to enter the site.
Kids under the age of 6 can get in the antique pool for free while kids aged 6 to 12 must pay 13 Turkish Lira. The pool is only open from April to October from 8 AM to 9 PM every day.
There are lockers where you can put your belongings while you bathe in the healing waters but towels are not provided.
5. visit the museum of Hierapolis
This small museum has an interesting collection of antiquities from Hierapolis and is located in a former Roman bathhouse.
Visiting the museum will help bring the city of Hierapolis to life. It showcases beautiful art, stone reliefs, and ancient sarcophagi for which the region was famous. The whole collection of antiquities also includes sculptures from the nearby site of Aphrodisias.
Is it safe to visit Pamukkale?
Pamukkale is definitely very safe. I would advise walking cautiously near the travertine pools though as the white stones can be quite slippery.
You'll have to walk on rocks covered in running water and there are also sharp-edged pieces of limestone in certain areas. The same goes for visiting the ruins of Hierapolis (see above). Some of the rock bricks have loosened up over time so tread carefully!
Be careful when walking barefoot around the travertine pools…
If you're wondering if it's safe to wear a swimsuit in Pamukkale, don't worry. Turkey is still quite liberal when compared with nearby middle-eastern countries. Or at least it is when it comes to the more touristy parts of the country.
Bathing in the antique pool with a bikini shouldn't be a problem.
Another thing I would greatly recommend is to bring a good pair of sunglasses. The white limestone is so bright during the day that the glare could hurt your eyes if you don't protect them.
The travertine rocks are so white that on a sunny day the reflection from the sun can damage the eyes…
Pamukkale opening hours and fees
With a ticket for Pamukkale, you'll be able to visit the site for the whole day. The ticket includes both the entrance to the hot springs and to the ruins of Hierapolis. Tickets to visit Pamukkale and Hierapolis cost 60 Lyra.
Opening times are between 06:30 to 21:00 in the summer.
You could also buy an All Turkish Museum Pass that covers the entrance to Pamukkale as well. The pass costs 375 Lyra but it's worth it since it covers the visit of more than 300 museums and archeological sites around Turkey.
This Turkish Museum Pass also allows you to bypass the Pamukkale entrance line.
What is the best time to visit Pamukkale?
The best season to visit Pamukkale is Spring. The weather there is usually quite comfortable between April and June and a lot of flowers will be blooming around the site.
Fall, from September to October is also a good time to visit Pamukkale but that time of the year can be a bit rainy.
I wouldn't recommend visiting Pamukkale in winter because you'll be very cold when you'll come out of the springs, not to mention the occasional snowfalls.
Spring and Fall are great times to visit Pamukkale since the weather is just right…
What should you expect in Pamukkale?
Although Pamukkale looks pristine, deserted, and extremely gorgeous on the Instagram accounts of travel bloggers, it's not exactly the way it looks in reality.
It won't look exactly like in the pictures but it will still be stunning if you visit it during sunset. You should also expect relatively big crowds in Pamukkale if you visit it during the high season.
Most foreigners will visit Pamukkale on a day trip from Denizli. They'll usually arrive by bus in the early afternoon.
What I would suggest is to rent a room in Pamukkale itself so you can visit the site in the early morning before the crowds arrive as we did.
Where to stay near Pamukkale
While most people prefer to stay in Denizli and take a bus to Pamukkale, we think it's better to stay in a hotel near the hot-springs. By staying directly in the town of Pamukkale, you'll be able to visit the site before it's filled with tourists.
Here are three hotels located in the town of Pamukkale at a walking distance from the travertine pools:
This is our favorite hotel in Pamukkale. The hotel rooms were cozy and quiet. What made us fall in love with this hotel was the special care and attention given by the staff and the owner of the place.
The host Sami is very kind and attentive and he gave us some great information concerning what to see in town.
Click to check out rates and availability for "Sinter Terasse House Hotel"
This family-owned hotel is really close to the travertine pools of Pamukkale. The rooms are quite luxurious but they still have a very affordable price.
The beds are extremely comfortable, the rooms all have huge windows and hammam-like bathrooms. You'll get really good value for your money in this hotel.
Ozturk Hotel also has a super large pool where you can relax after spending a day visiting Hierapolis.
What I liked the best about this hotel was the great breakfast they serve every morning.
Click here to check out rates and availability for "Ozturk Hotel"
The rooms of Ozbay hotel are very big, clean and full of light. Have a look at a few pictures of the hotel here.
This establishment is very close to Hierapolis and Pamukkale. From some of the rooms, it's even possible to see the water-filled travertine pools.
The hotel offers great breakfast options and some very good restaurants are located nearby.
Click to check out rates and availability for "Ozbay Hotel"
Where to eat near Pamukkale
Pamukkale has some great restaurants where you'll be able to sample some of the best Turkish dishes. Here are a few of our favorites:
Kayas restaurant & Bar
This exquisite restaurant in Pamukkale has a great selection of beers and fantastic dishes! The eggplant served with meat is incredibly delicious and the fried chicken comes out sizzling with a live-fire under it.
This is the location of Kayas restaurant & Bar:
Teras restaurant
This restaurant has some great Gozleme and beef Kebabs. The meat served in the dishes is really tender.
From Teras restaurant, you'll get a lovely view of the white hot-springs. What I really loved about this restaurant was the friendliness of the staff and the incredible service.
Here is where you'll find this restaurant:
White House Restaurant & Cafe
At this restaurant, you'll be greeted like family as soon as you walk through the door. As soon as you enter the cafe, you'll notice how beautiful the place is. The interior of the restaurant is gorgeously decorated with shades of white and blue to imitate the hot-springs.
Here you can sample some great Turkish dishes as well as some Mediterranean specialties. The dishes range from delicious Turkish pides, Greek salads, hummus, and bread to vegetarian pasta and spicy chicken curries.
Everything is freshly prepared and nicely arranged on white platters. The waitresses are friendly, and some speak decent English.
The restaurant has large windows facing the street.
Here is where you'll find White House Restaurant & Cafe in Pamukkale:
How to get to Pamukkale
Since Pamukkale is one of the major touristic sites in Turkey, it's easily accessed from other cities and towns around the country. Most big cities in Turkey have buses that go to Denizli the closest town to Pamukkale.
How to get to Pamukkale from Denizli
If you start your journey in Denizli, it will be very easy to get from there to Pamukkale. Denizli is just 16 km away from the hot springs. It's possible to travel between the two towns by bus or by taxi.
Get to Pamukkale from Denizli by bus
To get a bus from Denizli to Pamukkale, you'll have to go first to Denizli Otogar Bus Station. This is where the bus station is located in Denizli:
The bus to Pamukkale leaves from platform 76. If you're planning on coming back to Denizli at the end of the day, you should verify the return time of the minibus with the driver and where exactly in Pamukkale you can catch the bus back.
If you want to start your visit by walking around the ruins of Hierapolis before visiting the travertine pools, you can ask your driver to drop you off at the northern entrance near the ancient city.
The Northern entrance is called "Örenyeri Kuzey Giriş" in Turkish.
Getting a bus from Denizli to Pamukkale will cost around 5 Lyra per person.
Get to Pamukkale from Denizli by taxi
A taxi ride from Denizli to Pamukkale should cost around 50 Lyra per person and the ride takes about 20 minutes.
Get to Pamukkale from Denizli with your own car
If you have your own car or if you are renting one, it will be very easy to reach Pamukkale from Denizli and you'll see some nice landscapes along the way.
To get there you'll have to follow Pamukkale Boulevard (highway E87) towards the North for 16 km until you reach the small town.
How to get to Pamukkale from Istanbul
Istanbul is another very touristy destination in Turkey. Travelers often visit Pamukkale right after spending time in Istanbul.
Flights between Istanbul and Pamukkale
Since internal flights in Turkey are extremely affordable, the best way to travel between the two destinations is to take a flight from Istanbul to Denizli airport. From Denizli, it's very easy to hop into a taxi or a bus to reach Pamukkale.
Flights between Istanbul and Denizli are generally around an hour long.
Buses between Istanbul and Pamukkale
If you want to travel from Istanbul to Pamukkale by bus, you'll first have to go to the main bus station and buy a ticket from Istanbul to Denizli.
This is where the station is located in Istanbul:
A bus ticket to travel between the two cities costs around 80 Lyra and the ride should take about 7 to 8 hours.
Once in Denizli you just have to get a taxi or a bus to Pamukkale.
How to get to Pamukkale from Cappadocia
Cappadocia is quite far from Pamukkale but traveling between the two destinations is not very complicated. From Cappadocia, you'll first have to reach Goreme.
This city is about 57 km from Capadochia and from there you'll be able to take a night bus to Denizli (Pamukkale). The journey takes around 8 hours.
If you travel in Turkey during the high season, it's better to buy your ticket a day ahead to be sure you'll get a seat on the bus. You can buy your ticket at the Goreme otogar.
This is where you'll find the bus station:
Have a look at this article to find out how to get a bus from Cappadocia to Pamukkale.
We hope this article was helpful and that you enjoyed reading it. Have you ever visited Pamukkale? Do you plan to visit Pamukkale soon? Let us know in the comments below.
*This article contains affiliate links. If you book a hotel/hostel or purchase one of the recommended products through our website, we'll receive a small commission at no extra costs for you. This way you're helping us writing more informative and awesome guides like this. Thank you!
Read the rest of our articles for more travel tips for Turkey: