When you hear or say 'travel' what comes to your mind first? New experiences? New friends? New places? Or perhaps a brand new adventure?
Well, traveling makes the world look new, and when the world looks new, your brain works in beautiful ways. So why not live your life in a way so that you don't need a vacation from your work.
If you're bored of your routine and want to travel, or your soul feels like escaping and experiencing something that might change you forever, then maybe, volunteering abroad is the path for you.
Travel comes with a lot of new experiences & endless challenges. Whether it is about your health or expenses, this traveling guide provides you with the information you need before hitting the road.
Let's get started!
What is volunteering abroad?
Volunteering basically means when you are willing to offer your services to help grow the community of the place you're traveling to. This could include working with established organizations or local communities. In general, you need to take care of the following expenses while volunteering abroad:
Airfare
Visa
Vaccination
Pocket money
And sometimes fees to be paid for volunteering
However, a new similar idea has recently evolved from the concept of volunteering; volunteering for accommodation. This involves working for locals in exchange for bed and meals at their place. It happens on a contract basis depending upon the kind of work you do and your duration of stay.
Benefits
Insight into the lives of local cultures and life
You might be familiar with the term 'in Rome do as the Romans do'. The best way to learn about a country is by living with the locals. This gives you an opportunity to not only have an idea about their culture and belief system but also lets you live them.
Volunteering at a summer camp in Turkey
Networking
Travelling is always a great way of making new friends. Living and working with the locals means you'll start bonding with them and this is a great way to network
Solve community or individual problems
Since you volunteer to offer your services, you'll help families and communities to overcome their problems. And what could be nobler than helping people face their issues and bring happiness to their lives?
In this article, we will be guiding you into how you could get free accommodation and food in exchange for your services.
Work as a volunteer abroad and get free travel and accommodation
The first thing you'll require is to come out of your comfort zone & break the typical 9 to 5 mindset. If you are an independent person with a few skills, then searching for free volunteering opportunities abroad is usually a good option. This way you can provide services to the locals in exchange for free food and accommodation.
When it comes to volunteering, teaching is one option that you can opt for while you're in another country. Many locals want to improve their second-language or let their kids learn new ones. All you need is a good command over your own language and some basic teaching techniques to get into this.
Teaching English in Turkey
There are also quite a few other areas that you can choose from in order to get work once you reach your destination. Check out the list below.
1. Join Resorts/Restaurants
Your culinary expertise can help you earn a good amount of experience on your tour. There are many resorts and hotels looking for staff members & helpers. For instance, you can apply as a receptionist, waiter/waitress or chef, whatever suits your skill-set the most.
2. Work as a freelancer
With a surge in the popularity of freelancing, people have turned to become digital nomads; traveling all around the world and earning at the same time.
If you're a freelancer then there's nothing to worry about. All you need is your laptop, a quiet place and you're good to go.
3. The entertainment industry
Is acting in your passion? Great, then you can join theatre groups or even offer acting classes. This will help you explore more about the local culture & languages and also network with people.
4. Know how to make crazy hairstyles?
Your love for inventing new hairstyles can be a good option. Give amazing hair-care services to the locals to get free accommodation and food in return.
5. Let people know you're a great dancer or musician
Are you a guitarist? Or know salsa very well? Then teach your talent to others & make a living for yourself in a new place. It's a great way to enrich your experience of discovering new cultures.
6. Promote a healthy lifestyle
Are you a health freak? This is definitely going to win you some options where you can demand food and accommodation in exchange for your guidance on a healthy lifestyle. You could teach yoga or become a personal fitness trainer while living in your dream destinations all around the globe.
7. Design or build homes
You could be an interior designer or help in home construction projects to shape up someone's dream home. This type of work is quite in demand and serves as a good exchange for food and accommodation.
8. Capture moments! Capture lives
You might have heard the saying "Photography is a love affair with life". You could have this love affair and see the dreamiest places and yet not have to pay for food and accommodation. You could keep being in this love relationship with photography & capture the scenic beauty of new places to live for free all over the world.
9. House-sitting/babysitting
Do you love playing with kids? Then you could offer your help as a nanny or a house sitter. This gives you a chance to know a family or a culture from a new perspective.
Housesitting in Turkey
Other volunteer work options to choose besides these are fashion designing & other artwork. At the end of the day, if you have a skill which is in demand, you could absolutely use it to sustain yourself on a long trip
[kt_box opacity="1″ background="#eded6d"]
Read also:
How to find free accommodation around the world
[/kt_box]
Up next, let's discuss a few challenges that present themselves while traveling.
Challenges that you'll face volunteering around the world
The thought of adventuring around the world is really exciting. But take a moment and think. Will you be able to manage your life without wifi, a comfortable bed, the same friends, parents, delicious food & everything that you do in your daily routine?
Traveling seems like a joyous experience at first but once you've begun your journey, you may realize that a lot of sacrifices go into it.
When you've decided to volunteer abroad in exchange for free travel and accommodation, make sure to keep these things in your mind:
* It is important for you to be strong & talented enough to manage your own living in a foreign country. A new place comes with all kinds of challenges. Be it food, cultural shocks, religion, laws or even solitude. You need to fathom all the obstacles prior to your trip and then plan accordingly.
* Make sure to always carry your mobile phone & keep your close ones aware of your whereabouts. This may help in avoiding any unwanted situations
* For women, you have to be conscious enough to safeguard your well-being properly, especially if you're traveling alone. Keep a knife, pepper spray or any other safety equipment with you in case dangerous situations would present themselves. Inform your friends you'll be traveling in a foreign country and be careful when trusting strangers.
Every journey comes with difficulties and so does volunteering. It's just that you need to take a few precautions in order to have the best possible experience.
If you consider traveling solo
It is said that one man could be judged the best when he is given freedom. And this could be used in reference to solo traveling.
Solo traveling makes you strong & brings you closer to yourself. If you have never traveled solo, you've missed out on people who might be waiting for you at your dream destination. While solo traveling gives you the freedom to be yourself, it also gives you some hard challenges as well. So you need to be a little creative and start thinking out of the box.
Sometimes, survival may become difficult while traveling on your own. By using our platform Hippohelp, you could find volunteer opportunities abroad for free. But, it's up to you to ensure that your solo-journey is a safe one. Read more about Hippohelp here.
[kt_box opacity="1″ background="#eded6d"]
Read also:
Is it safe to travel as a solo woman in Uzbekistan?
[/kt_box]
Here are some of the Pros & Cons of solo traveling and volunteering
Pros
1. Freedom
One of the best things about solo traveling is that it brings you closer to yourself. It gives you an insight into what you exactly are apart from your physical existence.
So go wherever your dreams take you and be a master of your own fate. A solo trip is yours only and you alone can choose when and how things happen in your life.
2. Add new people to your friend list
Get ready to meet new people from different cultures who might be waiting for you to enter their lives. Chances are you'll meet people who will become friends for life. It's a lot easier to connect with new people while traveling alone.
3. An easy way to be a linguist
Want to see the best in people, their culture & their languages? Solo traveling can give you all that, and it's a lot easier to connect with new people while traveling solo. Spend most of your time with the locals & interact with them. It'll brush up your language skills which can be a good way to get free accommodation and food in exchange for language training.
4. Set your own rules
No strict rules, no fixed schedules, no nothing! Feel that you are the master of your own destiny. Enjoy every moment and recognize the importance of your freedom. Teach people and discover new places with the locals. If you really like a particular area then stay there for as long as you want.
Cons
The thought of setting off to a vacation in an unknown location seems fun. Here's what makes it a little uncomfortable for those who are traveling alone.
1. Fear
Traveling can be a little scary if you're doing it for the first time. Fearing about how you'll be managing in a new place all alone can give you nightmares. The constant thought of making up your mind if the place is safe to travel to or not can be really challenging.
2. Safety Measures
Your primary concern while on the road should always be safety, especially when traveling alone. Traveling seems fun at first but if reasonable precautions are not taken, you might end up having unpleasant incidents…
3. You are the only one responsible
Being on your own means you have to take extra precautions of your essential documents and valuable things. Or you might end up being targeted by thieves and pickpockets.
4. No one to share your troubles with
Troubles can easily get overwhelming if you're traveling alone and come across a difficult situation while having no one to help you out. Things can get really stressful if you're all by yourself in a foreign country. In such moments, your will can push you out of problems and bring back a smile to your face.
5. Language barrier
Traveling to a place where you don't speak the local language can be tricky at times. It might become a difficult stay for you & ruin your solo traveling experience. In such cases, be patient and try to adapt to new situations as much as possible.
Sweet are the uses of adversity. Remember this line. These challenges tend to make one stronger and experienced. And, if you analyze solo travel closely, its benefits outweigh its cons by a mile. So do not worry about the obstacles because they only make you tough and more efficient.
Lastly, let's discuss how you can keep yourself healthy and fit, to make your journey a successful one.
Take care of your health
Fuel your wanderlust, but in a way that doesn't hurt your health and wellbeing. Traveling gives exposure to places where you need to pay special attention to your health. Here's a little snippet of how you can travel in a healthy way.
1. Sound Sleep
For travelers, a sound sleep of at least 7 to 8 hours is a must. If you're not resting properly you will most likely end up feeling tired all the time. A good rest for the body is essential. It will make you feel refreshed and energetic throughout the day and hence make you enjoy every moment.
2. Take frequent breaks
Frequent breaks while traveling are required to stay on top of your health. Do not plan on visiting every awesome place in only one day. Include breaks in your schedule & consult the locals on how to reach your destinations in the best possible ways.
3. Try the 30-minute miracle
Start your day with a 30-minute walk or a workout session. A brisk walk will be enough (you can also include some yoga). Along with this, do not make your traveling tedious. If you want to start your journey as soon as possible, then opt for immediate volunteer opportunities where you can educate people, work with them on various activities, contribute to construction projects or anything else. This will keep your body physically active & fit.
4. Don't skip the breakfast
You've probably already heard that breakfast is the most important meal of the day. It's even more important for travelers. So, don't skip it at all. Take a heavy and healthy breakfast that gives you the energy to keep alert while enjoying your journey. You could keep a stock of healthy sandwiches or fruits with you just in case you're hungry and require a quick boost.
5. Hydrate yourself sufficiently
Always carry a water bottle with you. If you're traveling in hot summer weather, then drink at least 9-10 bottles of water per day. It'll help you maintain essential water levels throughout the day.
6. Say no to sweets, drugs & alcohol
The last thing you should lose all your money on should be alcohol and drugs. We know that it can be really hard to sometimes just ignore them, but for a safe & healthy journey, you'll have to cut down on those habits to ensure you get the most out of your travel.
7. Change your eating habits
Go for fruits & vegetables instead of too much meat. It will help you feel light & active while also keep you fit. Fruits and vegetables are also generally a safer choice in third world countries with poor food hygiene.
8. Wake up the chef inside you
To maintain a healthy lifestyle, you sometimes need to cook for yourself. Bring vegetables or anything you love & cook it in your own way. This is a great way to avoid unhygienic street food.
9. Sanitizer is a must
Always carry a hand sanitizer with yourself. There will be times when you won't be having any basic amenities to take care of your health. So, use sanitizer before taking your meals.
10. Skin protection
Take good care of your skin. Carry sunscreen lotion or any other skin protection creams to avoid putting too much pressure on your skin, especially in areas with strong sun and clear skies.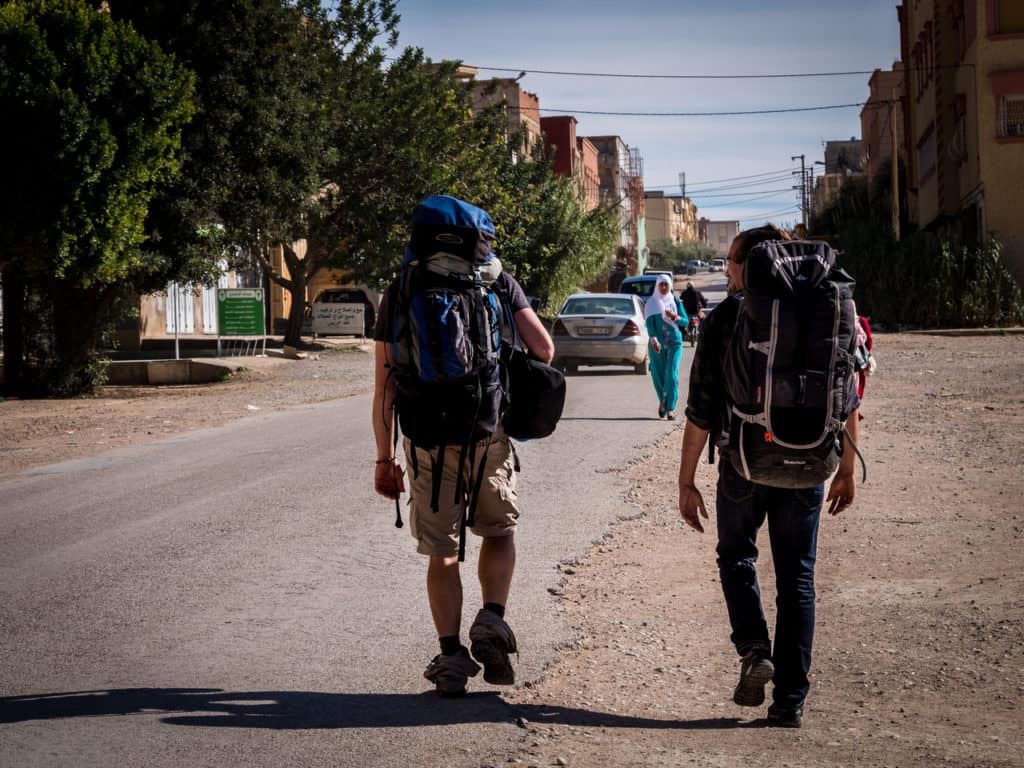 To wrap it up, not all those who wander are lost. Traveling enriches your life. It is perhaps one of the best ways to know about the world. And what could be better than working and traveling at the same time? It gives you a feel of a holiday and at the same time, keeps you busy and makes your life that of a travel professional.
So take your first steps towards your next happy, healthy and wonderful journey.
Thanks for reading!
---
About the Author
If you ask me what I look forward to every day in my life, I'd say traveling.
Born and brought up in a society of highly diverse cultures, the very thought of meeting new people excites me. And what could be a better source of understanding, living in, and experiencing various cultures than exploring the globe?
I left my job and put on my backpack and found a way to blend my career with my passion of seeing the world. This has been the story so far and I keep living it with a firm belief that something exciting and interesting awaits me every day.
Hrishi