This is a complete guide about the best travel drones for photography and videography. Here's an overview of things to look for in a good travel drone, what you should consider before you buy a drone, and a list of the five best travel drones in 2021.
Post originally published in December 2018. Updated in February 2021.
There has never been a better time for amateur photographers and videographers than now, due to the ever-evolving drone technology that is becoming more and more available.
Drones now have 4k cameras while still being super light-weight. Most of the best drones on the market can be folded up so they're easy to transport on your next epic adventure. They also have a very good video stabilization system so your footage looks great.
Tusheti, Georgia. taken with the DJI Mavic Pro
Although drones are not very hard to pilot, it's harder to decide which one is the best to buy.
After testing and comparing different travel drones with fellow videographers and drone enthusiasts, I wrote a complete list of the best drones on the market for traveling photographers and videographers.
Keep in mind that I wrote this with the average backpacker in mind so this list will only include the lighter models. Also, remember to check the drone laws from the country you intend to visit before bringing one of these drones there.
In this article I will compare different factors such as portability and camera quality and I will also point out the different advantages and disadvantages of the models on the market.
Disclaimer: Some of the links in this article are affiliate links. If you make a purchase through them, I'll receive a small commission, at no extra costs for you. This way you're helping me running this website and writing more informative and awesome guides like this. I only recommend products that I like and trust. Thank you!
---
What makes a great travel drone?
Not all drones are great to travel with and if you want to venture around the world with one, it's important to consider a few factors.
A travel drone needs to be small and compact or at least have the ability to fold itself. There is no point in buying a drone that you will end up leaving at home because it's too big and heavy.
The DJI Mavic drones are perfect for traveling!
There is an endless quantity of bulky drone models on the market at the moment and although they do have amazing cameras, they are not ideal to travel with.
Your drone needs to be small and light-weight to be easily carried around. Cynthia and I love to go hiking and I couldn't imagine myself carrying a heavy drone on miles and miles of mountain trails.
Hiking in Georgia. Taken with the DJI Mavic Pro
If you want to capture high-quality footage or take amazing pictures, you'll need a drone with a good camera. It's also very important to have this camera mounted on a gimbal so your footage will be as stabilized and as smooth as possible.
This is a feature that is quite common with DJI drones and although there are many drone companies, I really love how smooth the footage shot on the latest DJI drone is.
A drone needs to be strong and durable enough to resist the inevitable crashes that will happen on your trips.
A great drone that is super small and yet extremely tough and solid is the DJI Spark. At a DJI event, this drone was flown at full speed in a tree and the drone didn't withstand any damage. Everything, including the camera, was still working perfectly.
Even though a drone can be small, compact and tough as nails, in the end, it's the software that will make all the difference. Most drones can now be operated through an app on your phone.
The app will use your phone's display to show you exactly what the device is seeing and it's also a great way to use all the extra features your drone has, such as following subjects.
During our road trip in the steppes of Kazakhstan
Repairs and drone insurance:
If you use your drone as much as we do, it's inevitable that it will crash at one point. A great travel drone is a drone that can be sent back to its manufacturer and repaired easily if needed.
DJI offers a great drone insurance and repair service that you can count on if you choose the DJI Care Service Plan when buying it. If your drone ever needs repairing, it can be sent to DJI and they will send it back in a matter of weeks.
What are the pros and cons of traveling with a drone?
Traveling with a drone is a great way to film and photograph landscapes and subjects that wouldn't otherwise be seen from the ground level. You can see and capture the world from a whole new perspective.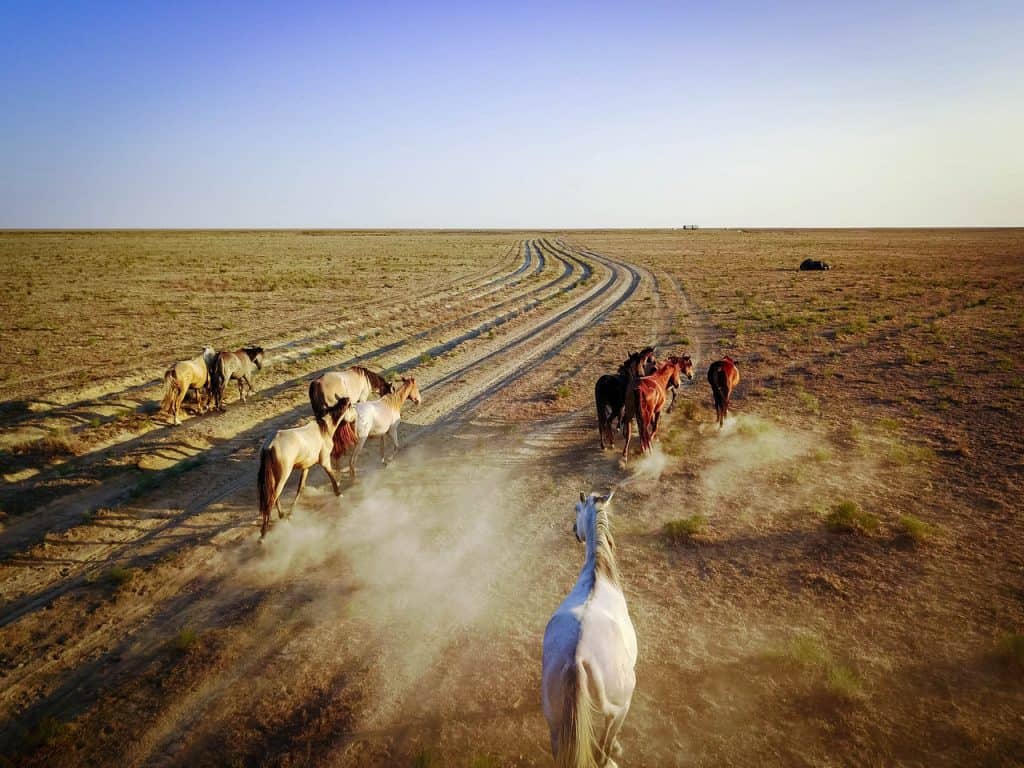 This being said, traveling around the world with a drone is not always as fun as it seems.
First of all, you'll have to skip a few countries or find a way to leave your drone behind when visiting them. Drone laws are becoming more strict around the world and some countries decided to completely ban them.
Nicaragua is another good example. A fellow blogger had his drone seized at the border when visiting this country. If you try to enter Nicaragua with a drone, it will be more than likely confiscated at customs.
Another thing you'll have to consider is the extra space it will take in your backpack and the fact that some models will require their own protective case since they are a bit more fragile.
We have been carrying our DJI Mavic Pro in its own protective case for the last two years and we have been super satisfied with it.
If you are looking for a strong and sturdy yet cheap protective case for your drone, we suggest either buying an Anbee Mavic 2 Storage Case for the DJI Mavic 2 Pro and the DJI Mavic 2 Zoom or a Fstop Labs Carrying Case for the DJI Mavic Pro.
Things to consider before buying a drone
Buying a drone for your next adventure should be a relatively straightforward process. However, here are a few things you should consider before getting your hands on one.
Not all drones can be operated with every type of phone or tablet
Different drones will use different apps and software so it's important to make sure that you have a compatible smartphone or tablet. Some drone apps will also require regular updates so it's important to make sure that your phone or tablet still has sufficient space left available for these.
Every drone model is different
Drones come in all sizes. Some have all kinds of extra features such as the ability to follow a subject or orbit around it. A few models have sensors that will help them avoid crashing in trees while others don't. Some drones can be operated without prior experience while others will require a bit more skills.
Before you buy a drone, make sure you understand what your drone is capable of and why this particular model is the right one for you.
The weather will sometimes prevent you from flying your drone
Most drones are not waterproof or weather sealed so flying your drone even in the slightest bit of rain can be problematic.
Another factor to consider is the wind as some smaller models won't be able to maintain their position in very strong wind gusts. Bigger drones will be more reliable in different weather conditions.
Fairytale Canyon, Kyrgyzstan
Our five best Travel drones for photography and videography
DJI Mavic Air
The Mavic Air was a revolutionary drone when it first came out on the market. It's capable of capturing stabilized 4K footage at 60 frames per second and it still fits in your pocket.
If you plan on going for a long hike in the mountains and want a powerful yet light-weight flying camera, then this is the perfect drone to bring along.
It was designed to go wherever adventure would take you and is my absolute favorite drone to bring along if I know I'll be walking for a long distance.
It has a 21-minute battery life which will be perfect for most people. However, if you plan on going on long hiking expeditions, it might be a good idea to buy extra batteries with the Fly More Bundle. This is a great option as it comes with three batteries, giving you a much longer flight time.
This drone is very small and fast with a weight of 430 g and a top speed of 68.4 kph. It can track subjects like it's predecessor the DJI Mavic Pro but it also has completely new features such as the ability to boomerang around them.
The Mavic Air also has a brilliant feature where it stitches 25 photos together in only eight seconds to create beautiful crystal-clear 32 MP Sphere panoramas. One super cool thing about this drone is its ability to take spherical videos. These give the impression the drone is crashing down to earth from a super high altitude.
The best advantage of this drone is its nearly flawless obstacle avoidance system that will make any beginner drone operator much more comfortable from the get-go.
DJI Mavic 2 Pro
The DJI Mavic 2 Pro is the second iteration of the DJI Mavic Pro and one of its advantages over its predecessor is a much superior camera and image quality.
It delivers the sharpest video footage and pictures of any consumer drone on the market at the moment thanks to its gimbal-stabilized Hasselblad camera.
These cameras are made in Sweden and renowned for their iconic ergonomic design and superior image quality. Photos and pictures taken with this drone are very often brighter, sharper and more detailed than those taken by the previous model.
The software of this drone has also been completely improved and offers new ways of capturing stunning footage such as its new hyper-lapse video feature.
The software also comes with pro color profiles for video, making it easier for editors to manipulate the footage to their liking after shooting. It also supports 4K 10-bit HDR.
This drone is also significantly faster than the original Mavic with a top speed of 72 kph and it also comes with a much longer flight time (31 minutes on average).
All of these extra features come at a higher price than the previous version but they are in my opinion totally worth it if you want to travel to off-the-beaten-path locations and capture the most stunning footage.
DJI Mavic 2 Zoom
Although the DJI Mavic 2 Zoom has most of the same specs as the Mavic 2 Pro in terms of flight time, speed and range, the camera is completely different.
It uses a smaller 1/2.3-inch sensor, but it has the ability to zoom from a wide 24mm view to a telephoto 48mm perspective in a matter of seconds.
This drone sacrifices camera quality for versatility. It's the perfect drone when you can't get too close to your subject such as when you are taking pictures of wild animals and don't want to scare them away or when you want to shoot an interesting subject without entering private airspace.
It's also a great drone if you want to take pictures of faraway subjects without having to drain your battery to fly nearby first.
This drone shoots smaller 12-megapixel photos than the Mavic 2 pro but it has a high-resolution mode in which it takes nine photos and stitches them into a larger 48-megapixel image.
It also has a "dolly zoom" mode where it mimics this popular technique used by cinematographers.
DJI Spark
The DJI Spark is probably the company's easiest drone to fly for people that have never piloted drones before. This is mainly because of its cool gesture controls but it can sometimes be a hit and miss.
There are a few more ways to operate this drone: it can be used with a mobile device or, for a much better range, a hand controller (this one can be bought with the drone).
It's also the cheapest, the ideal drone if you're on a budget.
It can be easily controlled with a smartphone but I much prefer to feel a sturdy controller that has joysticks over the cold glass touch screen surface of my phone.
It's a very light drone but this is both an advantage and a disadvantage as it's really easy to carry with you in your backpack, but this means the drone won't fly so well in high wind conditions.
DJI Mavic Pro
Even though the DJI Mavic Pro has been replaced by a newer version – the DJI Mavic 2 Pro, it's still my all-time favorite drone on the market and it's a super easy drone to operate.
Now it's even more affordable than before and still offers great quality. The camera of this drone is mounted on a gimbal and delivers very sharp and fully stabilized footage.
The battery has a flight time of 27 minutes so it's great to capture footage of subjects and landscapes that are a bit farther away while avoiding obstacles and shooting footage in 4K.
This drone can be operated using simply wifi with an android phone or with its own dedicated controller. I personally much prefer the feel of the controller in my hands. This also increases the distance you can send the drone to by up to almost 4 miles.
This drone is the one I used to film most of our videos on our YouTube Channel and I would highly recommend it for its low price.
I hope this guide is useful whether you are a new or more experienced drone operator.
Flying a drone has not only made our travels around the world more interesting, but it has also enabled us to see the whole world from a new perspective. Seeing the world around us from the sky is a rich and beautiful experience.
Above a yurt camp at Lake Issyk-Kul, Kyrgyzstan
If you are still doubting which drone to buy, my advice is to think about your particular needs:
Are you the proud owner of a drone? Which one do you have? What are your recommendations? Let us know in the comments below!