2018 has been a very exciting year for my photography. Not only did my work get published in some big magazines, I also became the newest Lumix ambassador for Panasonic! A huge step in my career as a professional travel photographer!
Photography was merely a hobby when I was still living in Belgium but when I started traveling full-time in 2011, I developed a real passion for it. However, it took me years of practice, self-study, and dedication to reach the level I'm at today.
As a way to celebrate what I achieved this year, I have selected 12 of my favorite photos that I took during my travels in Kyrgyzstan (from January to September) and Morocco (from November to present). The pictures below are all very special to me in their own unique way.
1. Staying with the nomads in Kyrgyzstan
Camera: Panasonic Lumix G9 – Lens: Leica DG Vario-Elamrit 12-60mm – Photo details: 1/3200 sec, f4.0, 54mm
One of the reasons why I loved Kyrgyzstan so much was that I was able to visit numerous yurt camps and learn more about the traditional nomadic lifestyle of the Kyrgyz people.
I always found it so recharging whenever I'd spend some time with the nomads. They live a simple and peaceful life, following the rhythm of nature. There's no air, light or noise pollution in the mountains, no outer distractions from the internet as there's no wi-fi signal, just the beauty and simplicity of nature! I know this would drive a lot of people crazy after a few days but I absolutely loved it!
Read where you can stay with a nomadic family in:
2. Camping near the Aksai Glacier in Ala Archa National Park
Camera: Panasonic Lumix G9 – Lens: Leica DG Vario-Elamrit 8-18mm – Photo details: 1/320 sec, f9.0, 17mm
I took this photo in August during a 3-day trek to the Aksai Glacier (located at 3800 meters) with a befriended photographer. The first day of our trek was very intense as we had to climb 2300 meters over a distance of only 6.5 kilometers! The ascent was traitorous and it took me some time to adapt to the altitude, but as you can see, the view was totally worth it!
3. Tired tour guide in the desert near Merzouga
Camera: Panasonic Lumix G9 – Lens: Leica DG Vario-Elamrit 14-140mm – Photo details: 1/250 sec, f5.4, 97mm
After spending a day of walking under the burning sun in the desert near Merzouga, we encountered some tour guides with their herd of camels. They were taking a small break as they clearly had a very exhausting day!
Travel photography is all about being sharp and ready to capture fleeting moments when they present themselves.
4. Sunset at Ala Kul Lake (Kyrgyzstan)
Camera: Panasonic Lumix G9 – Lens: Leica DG Vario-Elamrit 8-18mm – Photo details: 1/500 sec, f5.6, 12mm
In July Niko and I organized our first Adventure Trek in Kyrgyzstan and it was definitely one of my highlights of 2018! It was such a memorable experience to guide a group of international travelers across the country (watch the videos here)!
On the second evening of our 4-day trek, we camped with the group near the shore of Ala Kul, a turquoise colored glacier lake located in the Terskey Ala-Too mountain range. Although I'm not a morning person, for once I made the effort to wake up early and see the sunrise over the lake! Maybe getting up early should be my resolution for 2019…
Would you like to join us to this magical place in 2019?
5. Opening ceremony of the World Nomad Games in Kyrchyn Valley (Kyrgyzstan)
Camera: Panasonic Lumix G9 – Lens: Leica DG Vario-Elamrit 12-60mm – Photo details: 1/1000 sec, f5.0, 38mm
The World Nomad Games are an international sports competition dedicated to the ethnic sports that have been practiced for centuries in Central Asia. This was the 3rd and final edition of the Games in Kyrgyzstan (the next edition will be held in 2020 in Turkey) and I couldn't have ended my 10-month stay in the country in a better way!
This photo was taken during the second opening ceremony of the Games in the ethnocultural village Kyrchyn. During this ceremony, performers re-enacted a poetic interpretation of the Kyrgyz history.
6. The Akchour Waterfalls in Morocco
Camera: Panasonic Lumix G9 – Lens: Leica DG Vario-Elamrit 14-140mm – Photo details: 1/6 sec, f13, 19mm
Before traveling to Morocco in November, I hadn't done much research about the country. Niko had lived in Morocco for nearly one year before we met and I trusted him to be my guide. I had pictured a desert-like country so I was really surprised seeing such a lush and colorful scenery when we hiked to the Akchour Waterfalls in the Rif Mountains!
7. An unexpected snowy hike towards Kel-Suu (Kyrgyzstan)
Camera: Panasonic Lumix G9 – Lens: Leica DG Vario-Elamrit 12-60mm – Photo details: 1/1250 sec, f13.0, 12mm
This photo was taken during our Overland Expedition, the second adventure tour that Niko and I organized last summer. During this expedition, we camped for a few days in the Kok-Kiya Valley near Kel-Suu, one of the most beautiful mountain lakes of Kyrgyzstan.
When we woke up on the second morning, we were very surprised to see the whole area (including our tents) covered in snow! We knew that the weather in the mountains could be moody but we never expected to see so much snow in August! Luckily we were prepared for cold weather (we even had a few bottles of vodka, just in case…) and we were happy to get treated to such spectacular dramatic views over the valley and surrounding mountains!
Would you like to go on an overland expedition with us in 2019?
8. Climbing the highest sand dune of Erg Chebbi (Morocco)
Camera: Panasonic Lumix G9 – Lens: Leica DG Vario-Elamrit 14-140mm – Photo details: 1/500 sec, f9, 34mm
Erg Chebbi is a small desert in the east of Morocco, located near the town of Merzouga. This area is part of the pre-Sahara and is especially popular for activities such as camelback treks and overnight stays at one of the many luxury desert campsites. Erg Chebbi isn't as big as the Sahara desert itself, but you can easily spend hours of walking through the beautiful sand dunes while enjoying the silence and beauty of the desert.
Some of the sand dunes in Erg Chebbi can be 150 meters high! Although climbing these dunes requires some physical fitness (if you know how tiring it is to walk in the sand, imagine how it must be to climb on top of a steep sandy hill…), the view from the summit is breathtaking (if you have some breath left after the ascent …).
9. Joining grandma for a horseback ride (Kyrgyzstan)
Camera: Panasonic Lumix G9 – Lens: Leica DG Vario-Elamrit 12-60mm – Photo details: 1/250 sec, f5.0, 42mm
I also took this photo during the World Nomad Games. Although the sports competitions (like archery, eagle hunting, wrestling and Kok Boru (Dead Goat Polo) were really interesting to watch, the highlight of the whole event for me was the ethnocultural village of Kyrchyn.
The village consisted of hundreds of yurts where many activities were held, showcasing the nomadic cultures from Central Asia. It was so beautiful to see people wearing their traditional outfits and listen to different types of folkloric Central Asian songs. It almost felt like being on a relaxed music festival, something like Woodstock or so but then minus the alcohol and drugs…
10. Proud Eaglehunter (Kyrgyzstan)
Camera: Panasonic Lumix G9 – Lens: Leica DG Vario-Elamrit 12-60mm – Photo details: 1/500 sec, f6.3, 52mm
Central Asia is the birthplace of the ancient tradition of eagle hunting. The nomads who roamed the Central Asian steppes began to tame these birds of prey thousands of years ago and this tradition is still passed on from generation to generation. It was fundamental for the acquisition of food and furs in the harsh winter months.
Nowadays, this form of hunting isn't essential anymore in the survival of the people and the tradition of eagle hunting is now slowly disappearing. Kyrgyzstan is one of the few countries that still follow some traditions of the nomadic tribes and there are a handful of expert hunters left to this day who are determined to keep this ancient practice alive.
As you can see in the photo, the hunter really cares about his eagle. For years in a row, he puts all his time and energy into the training of the bird. The eagle isn't just his hunting partner, it's also his friend and family.
11. Cycling in Morocco
Camera: Panasonic Lumix G9 – Lens: Leica DG Vario-Elamrit 14-140mm – Photo details: 1/800 sec, f6.3, 140mm
Have you noticed that I love photographing people? From all the photos I took so far in Morocco, this is my favorite one.
While hitchhiking around the country, Niko and I often end up in small towns and remote villages that aren't on the 'touristic' trail. When we have to wait before finding another ride, I love to observe the people who are passing (or cycling) by. It teaches me a few things about their culture and daily habits.
That's how I learned that the Moroccan people cycle a lot. It reminds me a bit of my home country Belgium where we have a big cycling culture as well. While I was watching this man on his bike, I was wondering how he managed to cycle without getting his djellaba all tangled up in the bike's chain. I've cycled a few times while wearing a long skirt or coat and it didn't end very well…
12. Young shepherd guiding his cattle (Kyrgyzstan)
Camera: Panasonic Lumix G9 – Lens: Leica DG Vario-Elamrit 12-60mm – Photo details: 1/400 sec, f4.0, 60mm
This is an image you'll often see when you travel in Kyrgyzstan between the months of May and September. The Kyrgyz shepherds are semi-nomadic. This means that during the winter the shepherds live in cities and villages and as soon as the snow has disappeared, they move with their family and animals to the pastures in the mountains where they spend the summer in yurt camps.
The Kyrgyz people are also skilled horsemen. Centuries ago, the Central Asian nomads practically lived on their saddles while roaming the endless steppes and their children learned how to ride horses before they could barely walk. Nowadays horsemanship is still a much-revered skill in Kyrgyzstan. The horse is an indispensable helper and loyal companion that enables the people to easily travel between the remote mountains and valleys.
Which camera do I use and why?
As you could read in the captions, all my photos were taken with the Panasonic Lumix G9, a high-end, stills-first mirrorless camera.
I'm incredibly happy with the high-quality of the images that I can capture with this camera (up to 6K resolution)! The Lumix G9 also has a five-axis image stabilization, which is ideal to take handheld photos of people, fast-moving subjects and beautiful landscapes without ending up with blurry images.
The camera is also perfect for my outdoor adventures, where it's often exposed to dust, dirt, sand, rain and sometimes even snow. The body is weather sealed and very solid, so even if I end up in challenging weather conditions, I can still capture the moment without being afraid of breaking my camera.
The lenses I used for the photos above are the Leica DG Vario-Elamrit 12-60mm, the Leica DG Vario-Elamrit 14-140mm (a very versatile and compact zoom lens) and the Leica DG Vario-Elamrit 8-18mm (ideal for landscapes). I'm currently traveling in Morocco with the last 2 lenses and with the Leica DG Vario-Elamrit 12-35 mm (suitable for portraits).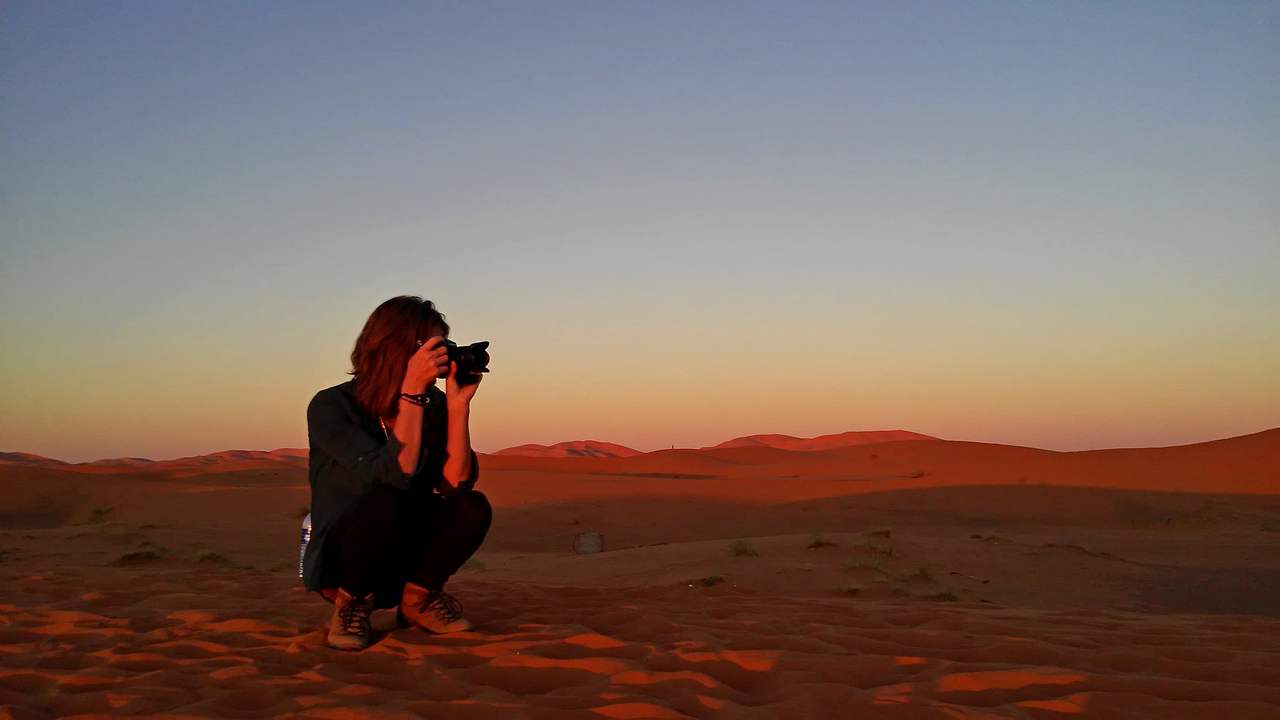 These were my personal favorites of 2018 but if you want to see more of my work, I have plenty more photos on my Instagram account.
Which of the photos did you like? And what type of photography really inspires you? I'd love to hear your feedback in the comments below!
* This article contains affiliate links. If you purchase one of the recommended products in this article, we'll receive a small commission at no extra costs for you. This way you're helping us writing more fun and informative posts like this. Thank you!
YOU MAY ALSO LIKE FOLLOWING PHOTO-ESSAYS: