This is a complete travel guide for the independent traveler with all the information you need to know about backpacking in Kazakhstan.
Kazakhstan is one of the few countries in the world that can still be considered as an off-the-beaten-path destination. It's the 9th largest country in the world so there's a lot for you to explore!
From arid plains, endless steppes and tiny dusty villages in the desert – where you'll see more camels than people – to lush valleys, glacial lakes, snowcapped mountains and modern cities, Kazakhstan will surprise you every step of the way! It's a country that mixes traditions from the past with ultramodern shopping centers.
After having traveled here for several months, I still can't wrap my head around Kazakhstan. It's a country that fascinates many intrepid travelers so if you like unusual destinations, don't wait any longer to book your flights and accommodation and travel to the country that literally means "the Land of the Wanderers".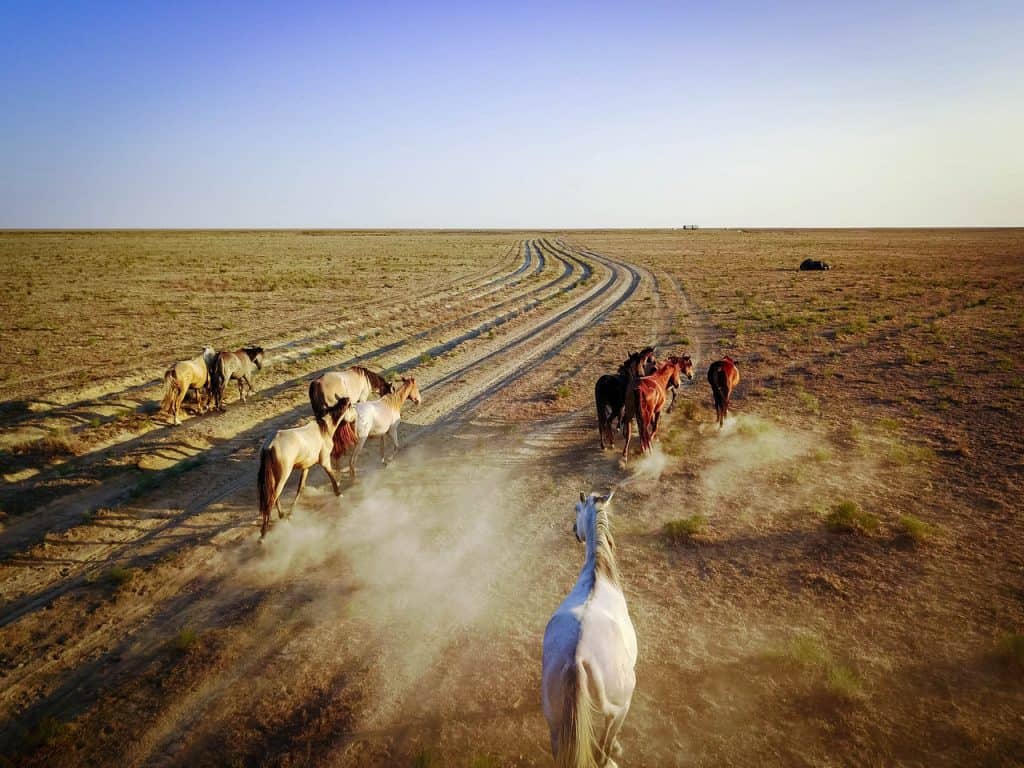 1. Do you need a visa for Kazakhstan?
Update 2020: Due to the pandemic, all free visas for Kazakhstan have been suspended. Every traveler has to apply for a visa in advance and must present a medical certificate confirming they haven't been affected by the virus.
Since January 2017, citizens from the European Union, Canada, the United States, Australia, New Zealand, Japan, Israel, Malaysia, Saudi Arabia, Singapore, South Korea, Azerbaijan, Uzbekistan, Tajikistan, Turkey and the United Arab Emirates are allowed to stay up to 30 days without a visa in the country.
Citizens from Russia, Armenia, Georgia, Belarus, Kyrgyzstan, Moldova, and Mongolia are allowed to stay 90 days visa-free in Kazakhstan.
Here is a complete list of countries eligible to visit Kazakhstan without a visa. You get the free visa on arrival at the airport or at any land border.
If your country is not on the list, you'll have to apply for a visa at the embassy where your residence is. However, the embassies are willing to make an exception if you don't have an embassy in your home country. Find out what you need to apply for a visa for Kazakhstan here.
Registration in Kazakhstan
When entering the country – whether it's in the airport or at a land border – you have to fill in a migration card. This card will be stamped twice at the passport control upon arrival, which indicates that you're registered. This is the registration card that you have to keep with you throughout your stay in Kazakhstan.
If you don't have this card with you when leaving the country, you'll have to pay a fine or even face deportation. In case you only see one stamp, ask nicely for the second one. If they refuse – which would be very unlikely – you have to register within 5 days with the Migration Police (OVIR).
Travelers who needed a Letter of Invitation (LOI) to visit Kazakhstan, always have to register with the Migration Police! Check here for more information about how and where to get the registration done.
Turkestan
2. Entering and exiting Kazakhstan
2.1 By plane
Here are the 3 main international airports of Kazakhstan:
1) Almaty International Airport (ALA)
Almaty is the former capital city of Kazakhstan and the best place to start and/or end your travels in the country. It's also easy to travel overland from here to Bishkek, the capital of Kyrgyzstan.
How to get to the city center of Almaty from the airport?
A taxi from the airport to the city center of Almaty costs around 2000 tenge ($6). There'll be many taxi drivers waiting outside the airport and most of them will want to charge you double or triple the price. The ride to the city takes about 30 to 40 minutes.
There are also buses available during the day that can drive you to the city for 80 tenge ($0.25) but the ride takes around 1 to 2 hours, depending on the traffic.
How to get from Almaty to the airport?
The best and fastest way to get from Almaty city center to the airport is by taxi. You can ask your hostel/hotel to call a taxi or you can order one yourself by using the Yandex app. It costs around 1500 – 2000 tenge to go to the airport.
2) Astana International Airport (TSE)
Astana became the new capital city of Kazakhstan in 1997. This ultramodern city is located in the north of the country and quite far away from other places worth visiting in Kazakhstan.
How to get to the city center of Astana from the airport?
A taxi from the airport to the city center of Astana costs between 2500 and 3000 tenge ($7 – $8).
There are also buses available during the day for 60 tenge.
3) Shymkent International Airport (CIT)
Shymkent is Kazakhstan's third largest city and a good base to explore the Kazakh desert and places like Turkestan. Many travelers stop here before they continue their overland journey to Uzbekistan.
How to get to the city center of Shymkent from the airport?
A taxi from the airport to the city center of Shymkent costs around 1300 tenge ($4).
There are also buses available during the day for 50 tenge.
2.2 By land
You can enter Kazakhstan overland from Russia, China, Kyrgyzstan (read the border report here), Uzbekistan and Turkmenistan.
For information about the different border crossings, read this page on Caravanistan.
2.3 By boat
We entered Kazakhstan by taking a cargo ship from Baku (Azerbaijan) to Aktau (port in West Kazakhstan) across the Caspian Sea.
3. Which vaccinations are required for backpacking in Kazakhstan?
You don't need any compulsory vaccinations to travel to Kazakhstan.
The government of Kazakhstan requires proof of the yellow fever vaccination only if you're arriving from a country where there's a risk of yellow fever.
4. What do you need to bring on a trip to Kazakhstan?
4.1 Money
The official currency of Kazakhstan is the Kazakhstani Tenge (KZT). 1USD is about 340 tenge (June 2018). ATM's are very easy to find in the cities but make sure to bring cash money when you visit remote villages and regions. There are also plenty of exchange offices, especially in the big cities, in case you want to exchange some dollars or euros.
4.2 Travel Insurance
It's not mandatory to have travel insurance if you are traveling to Kazakhstan. However, it's always a good idea to have international travel insurance!
If you don't have a travel insurance yet, I suggest to sign up for the insurance provided by World Nomads! Click here to get a quote.
4.3 Which power adaptor do you need in Kazakhstan?
The power sockets in Kazakhstan are of type C and F. The standard voltage is 220 V and the standard frequency is 50 Hz.
4.4 Which clothes should you pack for Kazakhstan?
Kazakhstan has mainly a continental climate with hot summers and cold winters. The temperature varies depending on the region of the country.
The summers in the southern part of the country and in the steppes can be scorching, with temperatures going up to 40°C (104°f).
The winters in the northern part are on the other hand freezing cold. Astana is the second coldest capital city of the world. The temperature in winter there can go as low as -50 С° (-58 f°)!!!
Hiking in the mountains near Almaty in the month of February
Pack appropriate clothes for the period in which you're traveling. In winter (November – March) you should always bring warm clothes, a down jacket, a hat, a scarf, thermal underwear, warm boots and maybe a few lighter clothes for the mild days in the southern regions.
The summer (June – September) can be very hot, especially in the southern part of the country so bring light clothes. If you're planning on hiking and camping in the mountains around Almaty during the summer, you should also bring warm clothes as the temperature at night can still drop to 0°C.
For women: the cities in Kazakhstan are very westernized so there you can wear whatever you like.
If you're planning on visiting rural areas, don't wear miniskirts, short shorts and revealing tops as most people living there are quite conservative.
While visiting religious buildings and places, such as Turkestan, wear a long skirt or trousers.
5. When is the best time to travel to Kazakhstan?
You can visit Kazakhstan the whole year round, depending on what you want to see and do during your trip.
The period between May and October is the best time to visit the country, especially the northern region (to avoid the cold) and the southeastern region.
The temperatures are not too high so it's perfect to go hiking and camping in places like Charyn Canyon, Kaindy Lake, the Kolsai Lakes and the Tian Shan mountains around Almaty and in the highlands of the Altai mountain range in northeastern Kazakhstan.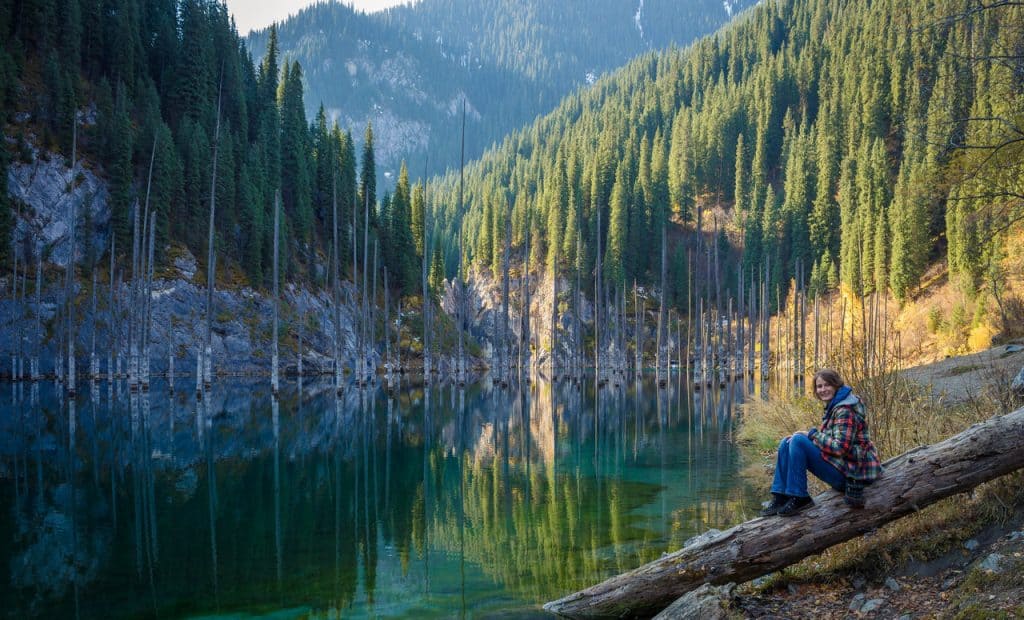 At Lake Kaindy
If you can cope with the heat, it's also a good period to go on a road trip or a train trip through the steppes and visit other parts of the country.
The winter (November – March) might not be a very attractive time to visit Kazakhstan as it can get very cold (down to -30°C/ -22°f or lower). But if you love snowy landscapes and winter sports, then you should definitely go to Shymbulak (near Almaty), one of the most popular ski resorts of Central Asia.
6. Accommodation in Kazakhstan
6.1 Hostels, hotels and guesthouses
You can choose many cheap accommodation options in the big cities and towns of Kazakhstan. Hostels are the cheapest option, starting from $5 per night for a bed in a dorm. You can also find a nice private room in a guesthouse, starting from $12 per night.
6.2 Camping
There aren't many designated camping sites in Kazakhstan so it's allowed to camp in the wild. If you can, you should definitely camp at least one night in the steppes (watch this video to get inspired)! It's an incredible experience!
7. Getting around in Kazakhstan
7.1 Traveling in Kazakhstan by public transport
You can get around in Kazakhstan by train, bus, mashrutka (min-bus), (shared) taxi, and plane.
Getting around by train
I've mentioned already that Kazakhstan is a big country so the easiest and most comfortable way of getting around in the country is by taking a train.
It's a cheap way to travel long-distances through this vast country, there are regular connections between all the main cities and towns and you'll also meet many locals along the way.
It's better to buy your tickets in advance as most trains are sold out during summer and holidays. You can book your train tickets on tickets.kz where you can select your seat/bunk bed in advance.
If you're going on an overnight journey, you will get sheets, a pillow, and a blanket. Bring enough food and drinks with you as the food prices on the train are very expensive. It's forbidden to drink alcohol on the train.
Getting around by bus or mashrutka
You could also choose to travel by bus in Kazakhstan, however, if you have to travel long distances, I'd recommend taking the train. Buses are ideal to travel within cities like Almaty and Astana.
The standard price for a bus ticket in Almaty is 150 tenge ($0.40), which you need to pay to the driver as soon as you get on the bus. Don't forget to ask for a receipt so you can show it to the ticket inspector when he/she comes around.
You'll also see many mashrutkas within smaller cities and towns. A mashrutka is a mini-bus that looks like a van and is a popular public transport for the locals. However, it's not the fastest way to get around but it's definitely a cultural experience!
Taking a bus or mashrutka within a city
Every bus and mashrutka has a number and it can be a little confusing to find out which one you have to take.
You can ask your hostel or hotel which number you need to get on or you could use the app Maps.Me. Just type in the name of your location and destination and the app will show you the number of the bus or the mashrutka that is going there.
Getting around by (shared) taxi
Taking a (shared) taxi is a more expensive (about triple the price of a bus or mashrutka) but a faster way to get around within a city. Sharing a taxi means that you share the car with other people and you split the costs so you pay per seat. You'll find these taxis everywhere in the cities and near bus and train stations.
You'll often see locals waving down cars on the side of the road. The drivers that stop for them are often unofficial taxi drivers who earn a bit of extra money by giving locals a ride and charging them for the gas costs.
If you want to catch a ride like this, it's good to know in advance how much you should pay (some drivers like to charge foreigners more).
If you want to take a taxi in a city but you don't feel confident waving down cars and/or bargaining for a good price, you can always use the Yandex taxi app. This app works similar to Uber and these taxis work with a standard rate per kilometer (which you can see on the app or on the meter inside the taxi).
Getting around by plane
If you don't have much time to make a long-distance journey by train, you could always take an airplane to fly between the main cities in Kazakhstan. You can book your tickets on this website.
Hiking at the Kolsai Lakes
7.2 Hitchhiking in Kazakhstan
Hitchhiking in Kazakhstan is similar to hitchhiking in Kyrgyzstan. Although you'll see a lot of people standing on the side of the road waving down cars as a sign that they want to get a lift, it's standard to pay the driver for the costs of the petrol.
If you're after getting free rides, you'll have to explain this to your driver before you get in the car.
[kt_box opacity="1″ background="#eded6d"]
Read our hitchhiking tips for Kyrgyzstan as they also apply to hitchhiking in Kazakhstan.
[/kt_box]
If you're hitchhiking long distances in Kazakhstan, you'll often have to travel across the steppes and desert. Make sure you bring enough water and food in case you're stuck without a ride in the middle of nowhere!
7.3 Driving in Kazakhstan
Going on a road trip in Kazakhstan is definitely an adventure! It's also a fun way to explore the country at your own rhythm.
You have to drive on the right side of the road in Kazakhstan. The state of the roads is generally good if you drive along the main highways. If you want to drive across the steppes or on secondary roads, you can expect dusty roads and countless potholes so be careful!
Oh, and never trust the locals when they say they know a 'shorter way'. Check out this video to see what happens when you follow their advice…
You'll need an international driving license and proof that you have insurance. You will also need to have the vehicle's ownership documents with you.
You'll meet traffic cops along the way. If they see that you have a foreign license plate, they will probably stop you a few times. As long as you haven't broken any traffic law, you won't be fined (also check the section on how to deal with bribes at the end of this article).
One traffic law that you have to keep in mind is that you always have to drive with lights on when you're out of a city and that crossing a solid white line is a big no-no. Here's a great guide with info about driving and traffic rules in Kazakhstan.
Another tip is to bring a spare jerrycan for fuel if you're planning on driving long distances. There are several petrol stations along the way but make sure you have enough petrol in the car to drive a distance of minimum 300km before you come across the next petrol station.
Be careful on the road as some Kazakh drivers love to push the gas pedal and overtake other cars in the craziest ways! Going on a road trip through Kazakhstan is definitely worthwhile as long as you're an experienced and confident driver! You'll be able to reach very remote places and camp under the stars!
If you want to rent a car, check out the website of Iron Horse Nomads or this car rental site.
These guys will probably be your camping buddies
8. Food and drinks in Kazakhstan
The food in Kazakhstan is very similar to the food in Kyrgyzstan and Uzbekistan.
Most meals consist of mutton, beef and chicken meat, served in dumplings, on top of noodles or rice or alongside potatoes. If you're adventurous, you could also try the canned camel and horse meat!
It might be challenging for vegetarians to find some typical Kazakh dishes without meat. However, it's not impossible and you can definitely ask for meals without meat. In cities like Astana, Almaty, and Shymkent you'll find many little restaurants that serve vegetarian meals.
If you're traveling during summer, you'll find your dose of vitamins in a wide variety of yummy fruits and vegetables on the markets in towns and cities, except for when you're in the steppes. There you won't find many fresh fruits and veggies.
The food is mainly served with water or soft drinks. Soft drinks are served by the bottle, not by the glass. Tea is available everywhere but if you're a coffee-lover, you'll have to be satisfied with instant coffee.
However, in major cities, you can find some good coffee bars but expect to pay more when you order a proper espresso or cappuccino.
Although the main religion in Kazakhstan is Islam, alcohol is omnipresent and especially vodka is a very popular drink (Kazakhstan used to be part of the Soviet Union).
9. Religion in Kazakhstan
The vast majority of the Kazakh people are Muslims, but the Islamic religion came late to the area.
The practice of the religion differs from region to region and is in general not so strict. You won't see many women wearing a hijab and the majority of the men won't say no to a good shot of vodka.
10. People & Culture in Kazakhstan
The word "Kazakh" means "a free and independent nomad" in Turkic. The Kazakh people are descendants of ancient Turkic nomadic tribes and used to travel along the Kazakh steppes for centuries. Their culture was very similar to the nomadic culture that we can still see in Kyrgyzstan.
However, their way of life has changed dramatically over the past century and the majority of the Kazakh people have left their nomadic lifestyle and moved to the cities to work.
Even when Kazakhstan was still a republic of the former USSR, it rapidly developed its agricultural and industrial sectors because of its massive oil and gas reserve.
Kazakhstan is doing economically very well, better than any other country in Central Asia and when you visit a city like Astana and Almaty, you can tell that there's money in the country!
During the Soviet era, many people from other USSR republics were sent to Kazakhstan to work in the industrial sector. That's why Kazakhstan became a multinational state inhabited by 17.8 million people belonging to more than 120 nationalities!
It's therefore important to tell you that the people of all ethnic groups living in Kazakhstan are called Kazakhstani. Only the people of the Kazakh ethnic group are called Kazakhs and they are becoming a minority in their own land!
Unlike in its neighboring country Kyrgyzstan, it's nowadays very difficult to experience the nomadic culture in Kazakhstan.
However, if you want to learn about the Kazakh people and their traditions, you should go on a road trip and visit the small villages in the steppes. Most people there still live and work as shepherds. But you'll see that their culture became a mix of Kazakh and Russian traditions.
11. Which languages are spoken in Kazakhstan
The official languages of Kazakhstan are Kazakh and Russian. Only 64.4% of the population speaks Kazakh while Russian is spoken by almost everyone. You'll notice that the people living in the Almaty region and northern areas are predominantly Russian-speakers.
The young people who live in the cities will know some English but if you want to talk to the locals, you should learn some Russian.
[kt_box opacity="1″ background="#eded6d"]
We learn Russian by using the audio classes of Pimsleur. This is a great learning method to study a new language. Click here for more information.
[/kt_box]
A phrasebook will definitely be useful. I recommend the Lonely Planet Russian Phrasebook & Dictionary.
12. Is it safe to travel in Kazakhstan?
A lot of people are concerned about travel safety in Kazakhstan because of the 'stan' part. But I can assure you, it's very safe to travel in this vast country!
Niko and I have walked many times on the streets in Almaty and Shymkent at night and not once did we feel uncomfortable or unsafe. During our road trip through the steppes, we've never encountered a person who wanted to harm us in any way.
We got scammed only once in a tiny petrol station in the middle of nowhere and the traffic police only stopped us twice to ask for our documents. We got away without paying any bribes.
It really angers me when I read articles that state how dangerous certain countries are, written by people who've never even stepped one foot in those destinations. Kazakhstan is not a country where you'll see a lot of violence.
It's probably much safer to travel and live here than in western countries! The majority of the locals are very helpful and hospitable and the only way you might get hurt is from a bad hangover if you drank too much vodka with them.
So yes, Kazakhstan is a safe destination for travelers!
[kt_box opacity="1″ background="#eded6d"]
Read: Is it safe to travel to Kazakhstan?
[/kt_box]
13. A few more useful things to know before you go backpacking in Kazakhstan:
13.1 Drinking water
I wouldn't advise you to drink the tap water in Kazakhstan, especially not in small towns and villages.
Buy bottles of water in the local supermarkets or bring a LifeStraw Water Filter Bottle.
This is a reusable bottle that filters water using a microfiltration device. When you drink tap water using this bottle, any dirt, bacteria or parasites will be trapped in the fibers of the filter, while the clean water passes through.
It's not only good for your belly and wallet, it's also great for the environment because you don't have to buy any plastic bottles of water! They are very light to carry and super useful for when you go trekking in the mountains. You can use it to drink the water from the rivers and lakes without becoming sick! Click here for more information!
13.2 Bathroom facilities
The hotels, guesthouses, and hostels in the cities and big towns have hot showers and western-style toilets. Along the road and in remote areas, you'll have to feel comfortable with a squat toilet. Sometimes there's toilet paper but it's better to bring a roll (or two) of toilet paper with you on your travels.
13.3 How to deal with corruption & bribes
There's not that much corruption in Kazakhstan as there used to be, but if you travel around the country with your own car, the traffic police might stop you and find a reason to fine you. Corruption in Central Asia is rampant. However, in our experience, it wasn't that bad in Kazakhstan. We had more troubles with the traffic police while driving through Kyrgyzstan.
How do you deal with bribes and corruption? First of all, don't panic, get angry or be impatient. Stay calm and friendly, keep smiling and act like you have all the time in the world.
Most officials only speak Russian so even if you understand the language a bit, pretend that you don't. If the official happens to speak English, you suddenly can't speak English anymore.
Talk to them in a foreign language, pretend that you have no idea what's going on, give them the wrong papers,… Just mess around with them for a while. They soon will realize they aren't going to get any money from you and that you're wasting their time.
They will eventually give up and let you go. That's how we NEVER ended up paying bribes.
13.4 Internet
If you're depending on the internet for work, then the wi-fi in Kazakhstan can be frustrating at times. A lot of websites are blocked and even if you use a VPN, the internet speed is so slow at times that you'll quickly give it up.
However, if you buy a sim-card like Beeline KZ in any local shop, you'll get enough coverage to update your Instagram feed or call your mum on What's App and tell her that you're doing fine.
13.5 Useful apps for traveling and backpacking in Kazakhstan
This is one of the most practical apps you could use in Kazakhstan. You download the map of the country so you can use it offline. It gives you very accurate directions and shows you where you can find the nearest restaurants, bus stations, ATM, hotels, places with wi-fi, points of interest,… It also tells you the number of the mashrutka you need to take when you travel within a city.
This is very similar to Maps.Me but only works for big cities such as Almaty, Shymkent, and Astana. You can download the map of the city for offline use. This app only works in Russian but it's the most popular and accurate navigation app in Central Asia.
Great app for when you go on a road trip. This app serves as a database of places for overlanders. It includes information about (free) camping sites, restaurants, mechanics, petrol stations, water sources,…
Great app to use if you want to take a taxi in the major cities without getting ripped off. All the Yandex taxis have a meter so you'll always know how much to pay. It works very similar to Uber. Just enter your location and a taxi will arrive within 5 to 10 minutes.
I wish you fantastic adventures in Kazakhstan! If you still have questions about your upcoming journey, let us know in the comments below or send us an email.
[kt_box opacity="1″ background="#eded6d"]
Find more inspiration and useful resources for your upcoming trip to Kazakhstan here.
[/kt_box]
Don't forget to check out our Travel Videos of Kazakhstan!
Disclaimer: This post contains affiliate links. If you purchase a product through one of the links, we get a commission at no extra costs to you! See it as a small donation to keep this blog going. Thank you!
KNOW BEFORE YOU GO – KAZAKHSTAN TRAVEL TIPS:
Everything you need to know about traveling independently in Kyrgyzstan (visa, how to get to and around Kazakhstan, where to stay,…):
Safety tips for Kazakhstan:
Plan your trip to Kazakhstan, beautiful trips and hikes around Kazakhstan:
Border crossings in Kazakhstan:
KAZAKHSTAN TRAVEL RESOURCES:
Accommodation & Lodging in Kazakhstan: Booking.com
Travel Insurance for Kazakhstan: SafetyWing
Books and guides about Kazakhstan: