Iskanderkul Lake is known as one of Tajikistan's signature sights in the Fann Mountains. But is it really that beautiful and worth a visit? And what are the things you can do to make the best out of a trip from Dushanbe to Iskanderkul Lake?
Keep reading because I'll tell you all about it!
Iskanderkul Lake was the last stop of our 7-day trip to the Fann Mountains of Tajikistan. We had just finished a fun and intense 3-day trek to the stunning Kulikalon Lakes and Alauddin Lakes and were in need of some chillaxing time.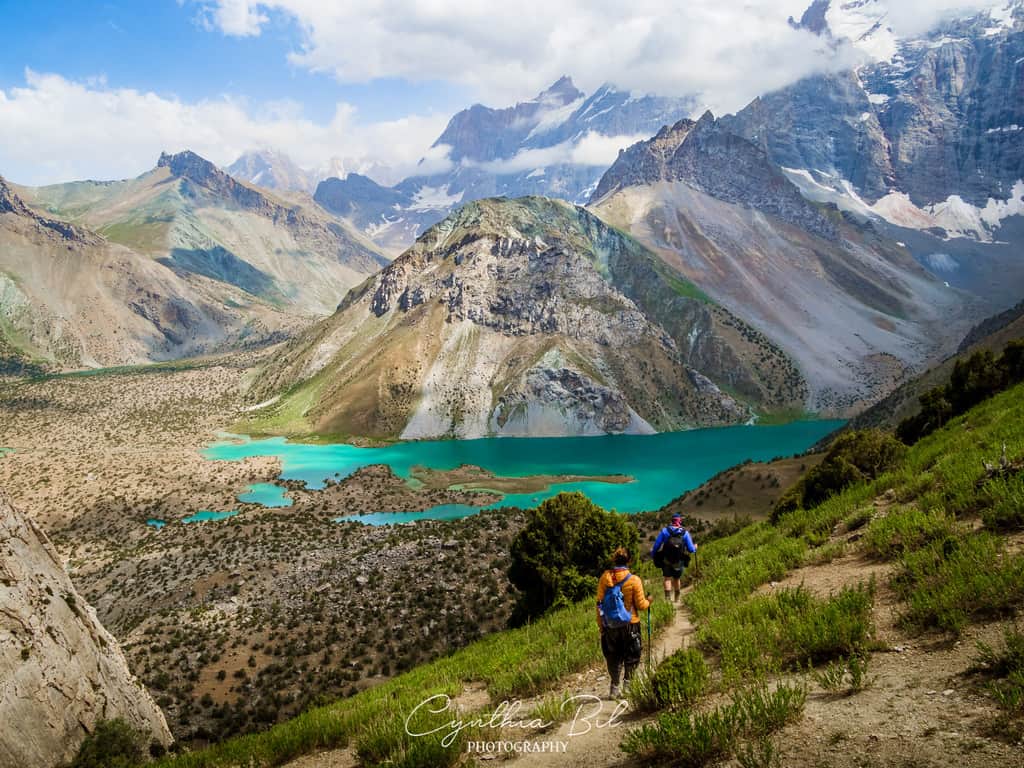 Trekking to the Kulikalon Lakes in the Fann Mountains
Iskanderkul turned out to be the perfect place for that!
This scenic lake, claimed to be one of the most beautiful mountain lakes in the former Soviet Union, lies at an altitude of 2195 meters on the northern slopes of the Gissar Range in the Fann Mountains.
Sunrise at Iskanderkul
I'm not sure if I would call it THE most beautiful alpine lake as I've been very impressed by the beauty of other lakes in Tajikistan like the Alauddin Lakes and even the mighty lakes of Ala Kul, Song Kol and Kel Suu in Kyrgyzstan.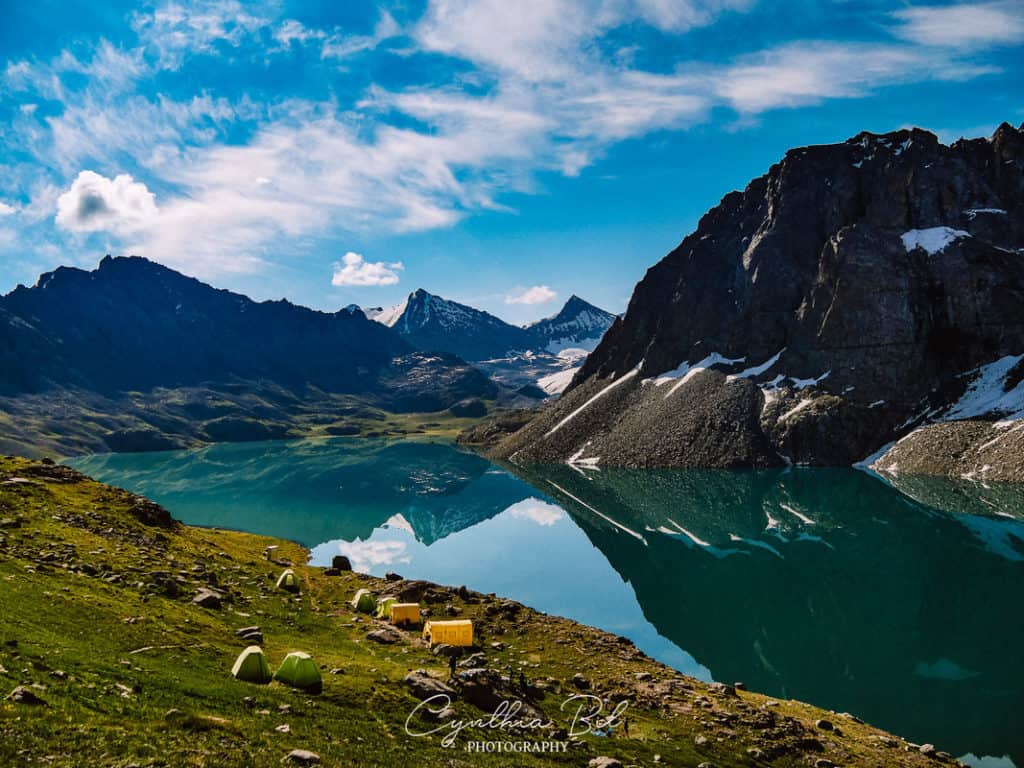 Ala Kul Lake in Kyrgyzstan
But yes, Iskanderkul lake is definitely a stunner as well! It has a triangular shape, covers an area of 3.4 km2 and is 72 meters deep.
The lake is surrounded by beautifully-shaped rocky peaks and on a sunny day, the crystal-clear turquoise water contrasts with the red rocks of the mountain slopes.
The highest visible mountain peak is Mount Kyrk-Shaitan, with an altitude of 3950 meters.
Iskanderkul is a great destination to visit on a weekend trip from Dushanbe if you're in need of some quiet nature-time after the hustle and bustle of Tajikistan's capital city.
It's also the perfect place to catch some of the beauty of Northern Tajikistan and do some light hiking if you're limited in time and/or can't go on a multiple-day trek in the Fann Mountains.
There are some nice and light hikes around Iskanderkul Lake
There are some fun things to do in the Iskanderkul region but before I share my suggestions on how to make the most out of your trip there, I'll first tell some interesting background stories about this picturesque lake. It's story-time!
Lake of Alexander the Great
The name Iskanderkul means "the Lake of Alexander the Great". This Macedonian king was known in the East as Iskander Zulkarnayn (horned Alexander).
You might also have noticed that a lot of the lakes in Central Asia, like Karakul, Ala Kul, Issyk-Kul, Yashilkul,… have the same suffix. That's because "kul" (or "kol") means "lake" in Turkic languages. I bet you're having a little 'aha' moment now…
But how is this lake in Northern Tajikistan connected to one of the greatest conquerors in history? There isn't any proof that Alexander the Great went skinny dipping in the lake has been there but there are a couple of legends about the lake that are connected to him.
One of those legends goes as follows:
When Alexander the Great was conquering his way to India, he faced resistance in one of the mountain villages in the area that is now known as Tajikistan's Sughd Province.
The villagers refused to obey to Alexander and his army and declared war. As Alexander the Great didn't like to be challenged, he ordered to build a dam across the nearby river. He flooded the area and drowned the villagers. This is how Iskanderkul Lake was created. Not a very heroic story about the Great Alexander!
However, there's another legend that will give you a bit more empathy for the man.
During his conquests, Alexander the Great decided to take a rest on the shores of the lake. He was sitting on his favorite horse Bucephalus when he and his army were attacked by local villagers.
At some point during the fight, Alexander found himself on the edge of a cliff, his horse stumbled and they both fell down into the lake. Alexander survived but his horse didn't. He was so taken by grief that he searched for days but he never found the body of his horse.
Since then, locals believed they can occasionally see the horse coming out of the lake and graze on the shores during the full moon. There's also a belief that if a single girl sees Bucephalus on the shores of Iskanderkul, she'll get married soon and have a happy and long life.
In case you're a solo female traveler in Tajikistan and you're looking for love, you know now where to set camp for the night…
[kt_box opacity="1″ background="#eded6d"]
Read also: Trekking in the Fann Mountains in Tajikistan – 70+ stunning photos!
[/kt_box]
Things to do at Iskanderkul
Iskanderkul is considered to be one of the signature sights of Tajikistan. It sounds like a very popular destination but when I was there during high-season (in the month of August), I didn't see many other tourists there.
So what are the things to do at Iskanderkul to make the most out of your trip?
1. Relax on the shores
Part of Iskanderkul's shores is covered in pebbles, making it look like a little beach. It's a nice area to chill, bathe in the sun, read a book or just enjoy the reflection of the surrounding mountains in the lake.
The pebbled beach of the lake
The water of the lake looks very inviting to go in for a dip but while I've read that it's possible to swim, I've noticed signs that say it's forbidden. Maybe it's just in some areas of the lake where you can't.
Just be aware that Iskanderkul is a mountain lake so even during summer, the water temperature doesn't rise above 10°C.
Iskanderkul is a lovely place to relax and enjoy the views
2. Go on a boat trip
There's an old resort on the shores of the lake called Turbaza (see Where to stay at Iskanderkul) where you can rent a boat for 50 somoni (around $5) to go for a trip on the lake.
There's almost no aquatic life due to the high concentration of minerals in the lake so no need to bring your fishing gear.
3. Walk to Snake Lake
"Snake" Lake, also called Zmeinoe Lake, is a small reed-lined lake on a short walking distance from the Turbaza lodge at Iskanderkul.
Snake Lake
It's not exactly a refreshing place for a swim as this dark green lake is home to a lot of snakes due to the warm temperature of the water but the area around it is definitely very photogenic!
The views around Snake Lake
To get to Snake Lake, you'll have to hike up a small hill from which you get beautiful panoramic views of Iskanderkul.
View over Iskanderkul on the way to Snake Lake
There's a narrow canyon above Snake Lake with a small waterfall but it's quite tricky to get there.
There should be a small waterfall in this gorge
4. Hike to Iskanderkul Waterfall
Once you visited Snake Lake, you can continue hiking down the river gorge to see the Iskanderkul Waterfall, nicknamed "Fann Niagara" by the locals.
Hiking trail towards Iskanderkul Waterfall
It's a light 5 km hike to the 43-meter high waterfall that is partially hidden in a narrow rocky gorge.
Iskanderkul Waterfall or "Niagara Fann"
Iskanderkul Waterfall Gorge
The waterfall itself is not so photogenic because it has a weird angle but it's pretty spectacular to stand on the platform just above the gorge and see and feel the power of the water raging down the gorge.
The platform above the waterfall
The platform allows you to stand right above the waterfall – such a powerful feeling!
The "Fann Niagara" is a popular place among the locals to visit. You might meet a family or group of friends having some food or drinks near the waterfall and they'll very likely invite you to their little picnic party.
Cucumber, tomatoes, mutton and vodka, the typical ingredients for a Central Asian pic-nic!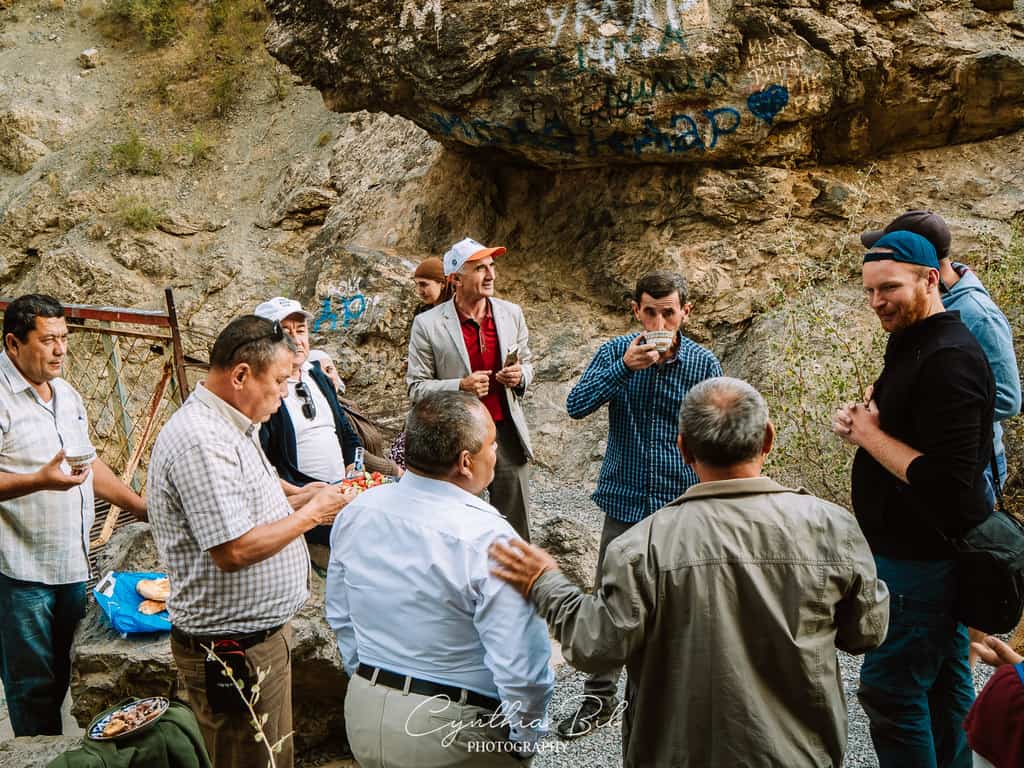 Making new friends at the Iskanderkul Waterfall
5. Visit and walk around Sarytag Village
As I like transparency, I have to mention that I didn't make it to Sarytag, a village located at 7 km from Iskandekul.
However, when I was making some research about Iskanderkul, I read some positive stories and reviews of travelers who stayed in this tiny village so I decided it was worth mentioning it.
Sarytag seems to be a very nice and authentic mountain village that is often used as a base for those who want to go hiking in the surrounding area of Iskanderkul.
There are many day-hiking opportunities in the region around Iskanderkul
There are also some homestays in Sarytag if you prefer to stay with the locals instead of camping or spending the night in one of the cabins near the lake itself (see below Where to stay at Iskanderkul).
Where to stay at Iskanderkul lake
I stayed in the Turbaza Cottage Park right on the northern shore of Iskanderkul Lake.
This holiday park has old wooden cottages in soviet-style and rooms with private bathrooms for which you pay 150 somoni per person (around $15).
You can also pitch your tent on the grounds of the park for 50 somoni per person (around $5). You'll also have access to the shower.
Turbuza Cottage Park has a large restaurant that overlooks the lake. You can order breakfast, lunch and dinner for 50 somoni ($5). They also sell beers for 15 somoni ($1.5).
Don't expect a luxurious holiday park but I liked this place as it's right on the shores of Iskanderkul lake and super close to the walking path to get to Snake Lake and Iskanderkul Waterfall. You can't book a room in this holiday park online yet but you can give them a call or send them a what's app message on following number: +992 904 04 28 28.
Staying at Turbuza Cottage Park
There are some other homestays and hotels around Iskanderkul lake. I couldn't find any that you could book online. The prices usually vary from $8 to $20 per person per night.
You could also opt to stay in a homestay in Sarytag village, located 7 kilometers from the lake. You can arrange a homestay through the ZTDA of Tajikistan.
The standard prices to stay in a guesthouse or homestay in Sarytag village are 15$ per person per night (usually includes meals as well).
How to get to Iskanderkul by public transport
There's no public transport going directly from any city in Tajikistan to Iskanderkul. If you don't have your own vehicle, it might be a bit tricky to get to the lake but definitely not impossible!
How to get from Dushanbe to Iskanderkul
To get from Dushanbe to Iskanderkul lake, you'll first have to take a shared taxi from Dushanbe to Sarvoda. These shared taxis leave at the shared taxi station at the end of Rudaki Street in Dushanbe.
The journey is around 100 kilometers and should cost between 50 – 65 somoni per person.
Once you're in Sarvoda, you'll have to search for another taxi towards Iskanderkul. Even though it's only 30 more kilometers, it'll be harder to find a shared taxi there. You'll very likely have to take a private taxi, which will cost around 100 somoni (for the car, not per person!).
If you have an adventurous spirit, you could also hitchhike from Savoda to Iskanderkul!
Once you've almost reached the lake, ask your driver to stop and take a photo at the viewpoint.
Viewpoint on the road to Iskanderkul
How to get from Penjakent to Iskanderkul
To get from Penjakent to Iskanderkul lake, you'll first have to take a shared taxi from Penjakent to Sarvoda. These shared taxis leave at the shared taxi station at the bazaar of Penjakent.
The journey is around 120 kilometers and should cost between 65 – 80 somoni per person.
Once you're in Sarvoda, it will be hard to find a shared taxi to Iskanderkul. You'll have to take a private taxi (around 100 somoni) or hitchhike to the lake.
Sunrise at Iskanderkul
Some final tips and thoughts about visiting Iskanderkul
Is Iskanderkul worth visiting?
I think you'd really enjoy your visit to Iskanderkul. There isn't that much to do around the lake but you'll definitely enjoy spending at least one day there.
The views are magnificent and it's a great destination to relax after trekking in the Fann Mountains or driving along the Pamir Highway.
Iskanderkul is also a good place to break your journey from Dushanbe to Penjakent or Samarkand (if you're planning to travel overland to Uzbekistan).
Places to eat near Iskanderkul
With the exception of the restaurant at the Turbaza Holiday Park, there aren't any supermarkets or corner shops near Iskanderkul.
Unless your homestay provides meals, you should definitely bring your own food and drinks on your trip to the lake!
When is the best time to visit Iskanderkul?
The best time to visit Iskanderkul is between May and October. The busiest time is during summer but when I was there halfway August, I barely saw other travelers.
If you're planning on camping, swimming and doing some hikes in the area, the best time would be from June until September.
I don't know with certainty if the road to Iskanderkul is open during the winter. I do know that the holiday parks and camping grounds are closed from October until May.
I hope you enjoyed this post and I wish you a very pleasant stay at the magnificent Iskanderkul Lake in Tajikistan!
[kt_box opacity="1″ background="#eded6d"]
See also: 70+ Stunning Photos of the Fann Mountains in Tajikistan
[/kt_box]
Have you been to Iskanderkul Lake and do you have more recommendations for travelers going to this lake?
Or are you planning on visiting this destination and do you have questions? Let me know in the comments below or feel free to send me an email!
Disclaimer:
* This publication is made possible by the support of the American People through the United States Agency for International Development (USAID) Competitiveness, Trade, and Jobs Activity in Central Asia. The contents of this publication are the sole responsibility of Cynthia of Journal of Nomads and do not necessarily reflect the views of USAID or the United States Government.
**This article contains affiliate links. This means that if you purchase a product through one of these links, we'll receive a small commission at no extra costs for you. Thank you!