Who are Journal of Nomads?
Hello! Hallo! Bonjour!
We are Cynthia and Niko, "professional" nomads from Belgium and Canada, who love to Rock'n Roam around the world. We've been traveling full-time for more than 8 years!
Before we started this outdoor and adventure travel blog, we both had been traveling for years, each in our own corner of the world.
We met for the first time in person in September 2014, while we were hitchhiking in France to make some money with grape-picking.
It wasn't love at first sight but within one hour, we decided to travel together. We love telling people how we met because it's a very interesting story!
You can read it in Ask and it is given - an uncommon love story.
WHO IS CYNTHIA
I'm 35 years old and I'm from the Flemish region of Belgium, an small European country surrounded by the Netherlands, Germany, and France.
In 2011 I left my home and my job as a school teacher to travel the world for was supposed to be a year. I've been living as a full-time nomad ever since, doing all kinds of random jobs to finance my travels.
Nowadays I'm a professional travel photographer, published writer, blogger, teacher, nature and animal lover.
I feel more at home in a tent or a cabin in the woods than in a real house (unless there's a fridge with chocolate and wine). I have a special love for hiking and trekking in wild and untouched places.
When I'm alone in nature, get challenged by the weather elements and have to live very basic for days or even weeks in a row, that's when I feel most alive.
My favorite smell is that of a campfire, seasoned with the scent of roasting meat and fried bananas.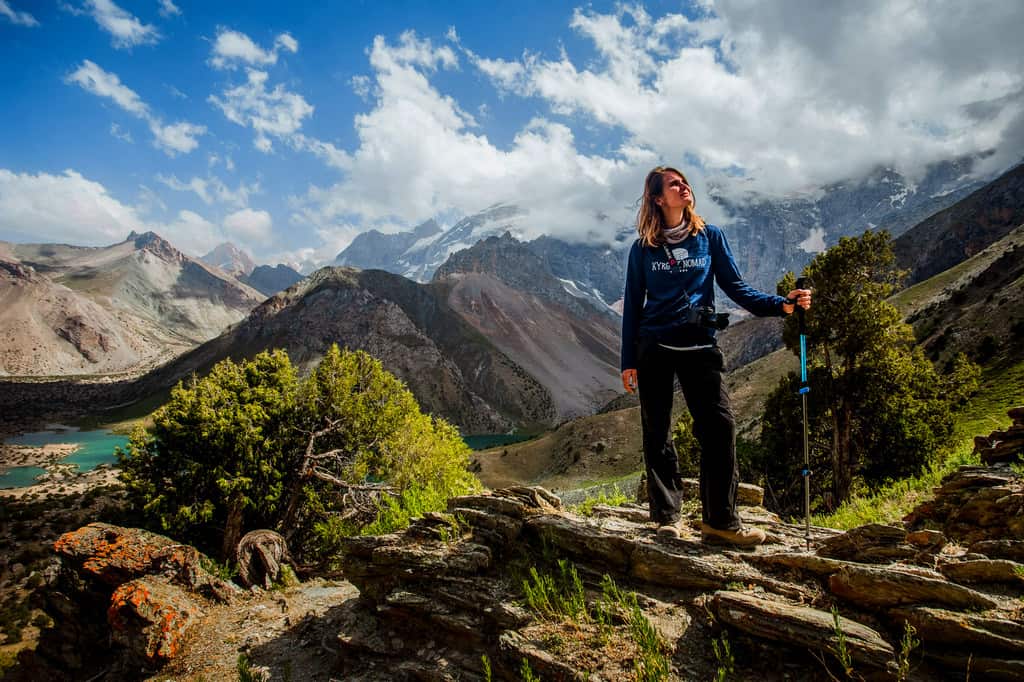 Before I started traveling, I worked as an art and special needs teacher in Belgium.

My feet have always been itchy and after some trips to South Africa, Malaysia, Senegal, Brazil, and Egypt, I decided on my 25th birthday to turn my life upside down, give up all my belongings and dive head first into the unknown.
I lived in a van on the beaches of Australia, worked on an isolated sheep farm in the mountains of New Zealand, wandered through Bali and Malaysia, lived in a tree house in Ireland and explored off-the-beaten-path places in various European countries.
Aside from enjoying and appreciating the natural beauty of this planet, I also have a fascination for the many cultures, traditions and stories of the people around the world.
WHO IS NIKO?
I'm 30 and was born in Quebec, that little French-speaking province on the East Coast of Canada. I've been traveling full-time for the last 12 years.
I'm a filmmaker, language teacher, street performer and I never go anywhere without at least one language learning book in my bag.
I have quite an unconventional background.
I grew up in the wild forests of Quebec, in a house without electricity or running water, which you can see in this video. My father had a wilderness survival school and I was taught how to live with the elements of nature.
I've always had a big thirst for knowledge and pushing the envelope of human experiences.
I hitchhiked to Alaska when I was 17 and have traveled in that fashion ever since. I traveled to many Latin American countries such as Guatemala and Peru and lived during three years in Mexico.
I was part of a street performing circus in Mexico, earned money as a street magician, hopped a train in Canada, sailed in the sea of Cortes, worked as a board assistant in an orphanage in Guatemala and managed a restaurant in Morocco.
I'm living my dreams while exploring this big beautiful world and learning as many languages as possible. In case you want to know, I speak French, English, Spanish, Arabic (Derija), Italian, Turkish, Portuguese and I'm now learning Russian and Chinese.
Speaking all those languages has definitely opened a lot of doors during my travels! I can only recommend people to learn at least one foreign language!
I didn't have the habit of documenting my travels until 4 years ago and never really wrote a travel diary but if I had, you could be sure that the life lessons contained in the article Things I learned from 12 years of traveling would have been in there.
OUR STORY
We've now been traveling together for more than 5 years. We hitchhiked from Ireland to Central Asia, explored many interesting destinations, had unforgettable outdoor adventures and experienced incredible kindness and hospitality of people from around the world.
Do you want to know more about our blog, story and the unusual journey we're on?
You can read everything right here!
If you like our stories and you want to discover known and unknown territories with us, make sure to visit our website regularly and sign up for our newsletter!
You can also stalk us on Facebook, Instagram and subscribe to our YouTube Channel.
We love connecting with people from all over the world!
Are we heading your way and you'd like to teach us more about your country and culture? Are you traveling in the same area as us? Contact us because we would love to meet you!
We hope to hear from you and who knows, we might meet somewhere on the road!
Lots of love,
Cynthia & Niko